PROS
CONS

Faster cutting for larger lawns up to an acre
Precise cutting with high tech control and blade
Regulated cutting temperature for healthier grass
Powerful engine with 20% more power for less bogging down on heavy loading.
Tripple-cut blades turn waste into good mulch for lush growth.
Durable steel deck

Not a riding lawn mower
Can be moderately loud when at high revs
There are only a handful of tools and home improvement machines that live the harsh life of lawnmowers. We ask so much of them when the season comes around and yet they are expected to perform to our expectations despite spending months on end tucked away in storage which is often less than ideal for their gas-powered engines. The Cub Cadet family of lawn tools is a signature brand in the US market that offers a guarantee to users for quality cut and healthy grass with powerful and dependable machines that are safe and easy to use.
The Cub Cadet SC 300 packs a standard 159CC engine with the advantage of tuned power put to good use by their patented IntelliPower technology application. The platform increases the power band for the machine and helps you control the whole range of torque and speed available to deliver the perfect cut without sweating it. It is one of the most dependable machines we have put under tests and will outdo many of its competitors in the same price range under adverse conditions.
When you need a mower that does not get bogged down even when your lawn is inclined or slightly rugged, you should consider the Cub Cadet SC 300 for the best push mower to buy because of its numerous ergonomic features and sheet force behind the engine and cutting mechanism. It has one of the cleanest cuts thanks to the high rotational speed and hardened razor precise blades.
Throw in variable rotation speed and user-friendly controls and you have a candidate for the ideal push mower for beginners and intermediate lawncare enthusiasts. Key among the selling points for the Cub Cadet SC 300 is the smooth engine engagement thanks to the intelligent power control feature. Here are more features that make this a worthwhile machine to equip.
Features of the Cub Cadet SC 300
159cc Cub Cadet engine with IntelliPower™ Technology.
20% more power than typical 159cc powered motor thanks to IntelliPower.
Less bogging down due to heavy and wet loads
21 in. steel deep dome for intense cooling of blade system
Works great for up to an acre of lawn
Tripple cuts grass for quality mulch
Front wheel drive with MySpeed Premium drive control system
6 speed control with MySpeed controller
High rear wheels for easy maneuverability and handling on steep terrain
A Dual-Lever
Engine
The greatest engine in any machine will guarantee that it completes its tasks on schedule and with minimal issues. This lawnmower is powered by a Cub Cadet 159cc OHV engine. It also boasts Auto-choke Sure Start technology, which makes starting and operating the mower a breeze. The engine is gas-powered and powerful enough to operate the machine's blades and rear wheels. It is one of the most durable engines, but it is also one of the quietest when mowing, with a noise level of 90 DB, so you can use it for long periods of time without bothering those around.
Rideability and user comfort
The Cub Cadet SC 300 IP Gas also features a rear drive, which many people like since it makes it easier to mow in a straight line by giving the mower greater traction. Furthermore, speed drive converts the Cub Cadet SC 300 IP Gas lawnmower into a self-propelled machine, thanks to the mower wheels' capacity to do so. The lawnmower wheels are full ball bearings with an industrial treat design, with 11-inch rear wheels and 8-inch front wheels.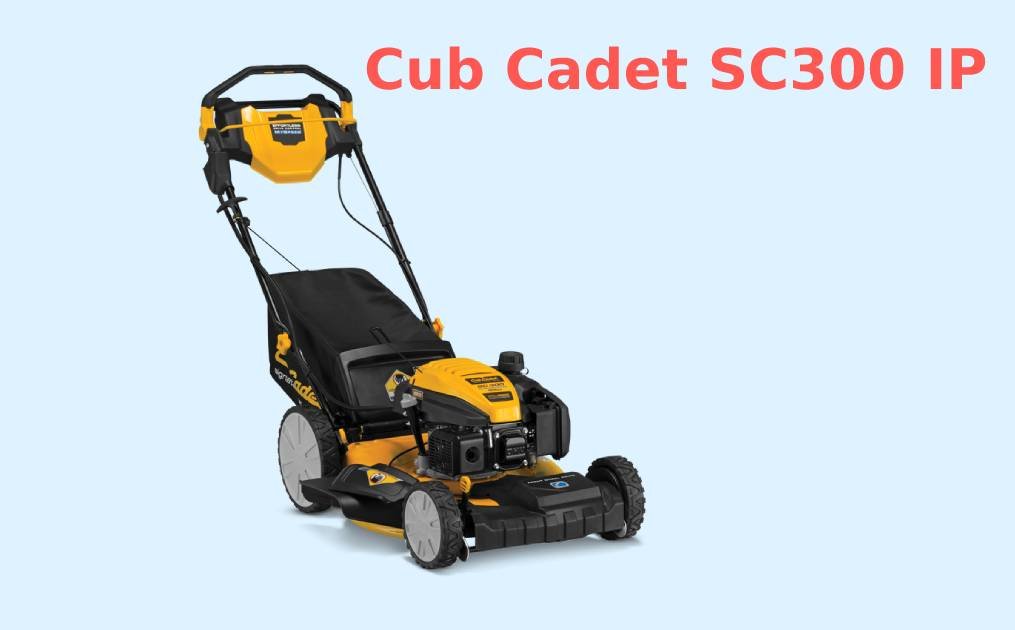 As if that weren't enough, the Cub Cadet SC 300 IP Gas lawnmower comes with a variety of adjustable settings to make your mowing experience more personal and customizable to your needs and preferences. You may modify the mower to your chosen level of comfort and lengthen your mowing session with the changeable setting. It's worth noting that the handlebar can be adjusted to three different heights, allowing you to mow your lawn at three different levels.
Lawn Mower performance
One of the mower's unique features is its mobility. Because of its 11-inch rear wheels and 8-inch front wheels, this mower can handle any terrain with ease. It has a responsive variable drive system that helps it move around obstacles while mowing. Because of its agility and rear-wheel drive, it requires fewer changeable wheels, resulting in a lighter mower. The Cub Cadet SC 300 Gas  lawn mower is a sensitive machine with a one-of-a-kind design that allows it to navigate around obstacles. This feature not only makes it one of the most responsive, but also one of the most maneuverable models on the market.
Quality of cut
The deck on this mower is 21″ long and durable. It's designed in such a way that it may create a lot of airflow within the deck. This creates a fantastic cutting zone for the blades, resulting in a precise cut. We will need to consider a bagger when it comes to cleaning and avoiding doing and repeating labor. Lawnmower baggers collect grass clippings, leaves, and garbage, ensuring that your lawn is always clean and well-kept. You may prevent a time-consuming clean-up after mowing by using a lawnmower bag attachment. This mower includes a large bagger that can hold 2.3 pounds of grass. It guarantees that after being cut, grass clippings are stored in the sack.
Durability
The machine's long life begins with its powerful engine, which has Auto-choke Sure Start technology, which allows the mower to start and run smoothly. This American powerful and reliable engine has a ten-year estimated life. It will last longer if properly maintained. The Cub Cadet SC 300 IP lawnmower also features a 21-inch steel deck that is corrosion resistant. Furthermore, the machine comes with a three-year guarantee, so you won't have to worry about its operation during that time.
We all want a machine to last longer once we purchase it. There are numerous pieces of equipment that may be purchased as an addition to guarantee that the machine lasts as long as possible. With this machine, you may purchase optional equipment, one of which is the cover. This protects the gadget while it is being stored. This will aid in machine maintenance, since dust, which is a major cause of machine failure, will be avoided. The cover may be purchased at a reasonable price.
Accessories
The Cub cadet SC 300 IP lawnmower comes with a number of extra features and qualities that we're used to seeing in lawnmowers. It has a wash hole for safely and effectively washing the mower's underbelly. After you've finished mowing, just connect a garden hose to the wash port and wash your mower. It also provides a rechargeable battery starter that allows you to start the grass cutting process with a single touch of the power button, unlike other mowers that utilize pull strings to start the engine.
Warranty
When you buy a lawnmower from the manufacturer, you get guaranteed customer service in addition to the mower's wonderful features. The lawnmower comes with a three-year guarantee. This means you may always contact the manufacturer if a fault or breakdown happens during the three-year warranty period. In addition, the mower is made of high-quality materials to ensure its longevity.
Conclusion
The Cub Cadet SC 5300 HW IPgas lawn mower is well-made and versatile. It's extremely maneuverable, allowing you to get it into places you would not have been able to before. This, along with the rear-wheel drive, allows it to handle a variety of terrains and slopes. The lack of a blade brake clutch is one of the minor flaws. Overall, this is one of the best lawn mowers on the market and an excellent choice if you have a well-kept lawn. Make the decision today to purchase a Cub Cadet lawn mower and enjoy the numerous advantages of owning one.
FAQs
What is the Cub Cadet SC300 IP?
Cub Cadet is a kind of lawn mower. Self-Propelled Mowers Cub Cadet SC 300 IP lawnmower is a three-in-one self-propelled lawn mower that mulches, bags, and discharges to the side. It's quite simple to use, and you can pick it up in within 20 minutes.
What is Intellipower?
The IntelliPower technology allows the on-board computer of the mower to boost the engine's power output by 20%.
Is the Cub Cadet SC300 self-propelled lawnmower a good buy?
In terms of performance, durability, and cost, the Cub Cadet SC 300 lawnmower is unrivaled. As a result, you should really consider purchasing it.
Why is SC300 IP a 3-in-1?
This mower is classified as a three-in-one mower. It can eventually be used for mulching, bagging and discharged to the side. It also has a mulch plug built in.