PROS
CONS

Rugged design
Self-propelled
Commercial quality mower
Aluminum cast mowing deck with lifetime warranty
Variable speed drive system
Single point height adjustment with 9 cutting heights
DR 22 discharges, bags or mulches cuttings
Available with the choices of manual only or electric start

More expensive than the SC 900 by Cub Cadet
In our quest to give you the most rugged and dependable lawn mower to suit your lawn size and budget, we have traversed the market and tested a range of residential and commercial lawn mowers to bring you a sample of the best of both worlds. The DR Power equipment a subsidiary of Generac company is the proudly USA maker of the DR equipment and power tools. The maker has been in business since 1985 and has designed and successfully marketed outdoor power equipment over the years. The DR stands for Dick Raymond who is one of the founders of the DR Power Equipment.
The company was since acquired by Generac another familiar household name in the US back in 2015 and has quadrupled their output with a range of gas and electric powered equipment sold through retailers to the general public.
The DR SP22 Lawn Mower is our subject of scrutiny today as an ideal choice for people with hilly yards and sizeable lawns which take quite some elbow grease to cover. They require less effort than a push mower as you basically only have to walk behind and guide the mower around. We have always searched far and wide to bring you all meaningful review points on each of these machines in one place so that you don't have to waste time and money when settling for the perfect mower for your lawn.
In our reviews, mowers such as the DR SP22 are ranked according to certain criteria such as side discharge, bagging and the ability to self-propel. Here are some extraordinary features of the mower that make it better for people looking for hill-friendly mowers with front or rear wheel drives for a range of lawn sizes and budgets.
Features Of DR SP22 Lawn Mower
22" wide aluminum deck with a lifetime warranty
DR OHV engine with 174cc displacement
Self-propelled walk behind mower with speed adjustment
Ball bearing mounted wheels for smooth roll
9 cutting heights with single lever adjustment
Mulching and bagging capabilities
Easy-on easy-off bagger with mulch plug included
Manual recoil starter/ electric start
Torque of 8 FT Lbs
Paper Air Filter
Cutting height 1" to 3.4" with 9 incremental steps
Engine
The stock motor on the SP22 Lawn Mower is the DR OHV 174cc engine with a gross torque of 8.0 Ft-lbs which gives exemplary performance for and longevity with fuel economy. You can choose between electric start and recoil starter mechanisms with both having the recoil puller for backup and sure start.
The stock motor on the SP22 Lawn Mower is the DR OHV 174cc engine with a gross torque of 8.0 Ft-lbs which gives exemplary performance for and longevity with fuel economy. You can choose between electric start and recoil starter mechanisms with both having the recoil puller for backup and sure start.
You can also choose from a B&S motor or a top performing Subaru engine. The motor provides enough power to push the mower and also cutting at exceptional speeds even for the wide cut area. This motor packs quite the punch and will be easily felt through the padded ergonomic handles despite the best engineering to dampen its vibration. While the engine capacity is a mere approximation of the power delivered by the engine, this mower easily matches the performance of larger capacities like the SC 900 Cub Cadet lawn mower which has a displacement of 190CC.
Riding Comfort
The DR SP22 is not rideable but a self-propelling walk behind mower which offers a blissful cutting experience even for homeowners with a larger lawn and hilly terrain. It has a speed regulator for matching your walking pace so you are not running after the mower across the lawn.
Some significant features that influence the working experience on a mower are not included with this mower such as the blade brake clutch and wing up handlebars. The wheels are sizeable at 8″ x 1.75″ and 9″ x 1.75″ for the front and rear respectively. These are large enough for the propulsion traction and also for easy maneuver when going around bends and turning.
Wheels with ball bearings are easy to roll and last a long time. There will be no cheap plastic sleeves that are simple to break and difficult to fix!
Lawnmower control and performance
The DR SP22 is a powerful mower with a staggering 174cc and up to 8.0 ft-lbs of torque which is plenty to slash thick grass and spare some juice to carry its own weight up steep slopes. The mower features steel gears for shifting and ensures longevity of the entire design. It allows people to walk behind the mower with easy action bail bar for controls which ensures that the handle is gripped for the machine to run.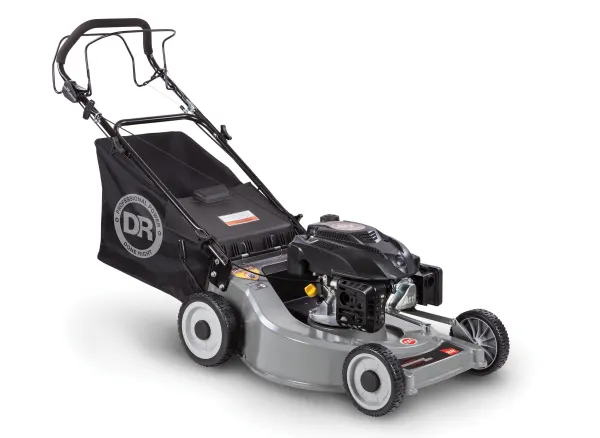 The machine offers an option for electric start and recoil starter for backup so that you can switch on and off as easy as abc. The best part about this mower is the ability to match the speed of the user for self-propulsion so as not to out pace and cause you to be tired when using it.
We love that the mulch bag is easy-on and easy-off and the mulch plug included is also functional but the machine does not offer side discharge which ensures a more even spread.
A push-button starter is easily located on the handlebar on the electric-starting type. Simply return the blade control bar to the cushioned handle, press the begin button, and you're ready to go! (For backup, there's an easy recoil pull-start.)
Cutting quality
Season after season, the DR SP22 Mower is jam-packed with pro-grade features for a top-quality cut. The cast aluminum deck is so long-lasting that it comes with a lifetime guarantee. It might be your final walk-behind mower purchase!
Height Adjustment in a Single Point: With a single lever, you may choose from nine different cutting heights. Cut as low as 1.0″ (lever all the way back) or as high as 3.4″ (lever all the way back) (lever all the way forward).
Durability
When it comes to durability, you can count on the US made DR Power equipment even under the most grueling of circumstances. This model enjoys a rugged design with a thick cast aluminum deck that is virtually indestructible and a reliable engine with a sure start mechanism. The wheels are mounted on actual ball bearings for
Accessories
The SP22 comes with a heavy-duty durable ad high capacity easy-on easy-off mulch bag and mulching plug.
Warranty
The DR Power Equipment brand is proudly made in the USA and is guaranteed to last you a long time until you grow tired of it and want to give it away. This can be inferred from the long manufacturers warranty of two years and the lifetime warranty covering the aluminum cast deck.
Conclusion
Based in Rural Vermont, the brand DR Power Equipment takes great pride in producing power tools that help improve and beautify the already gorgeous places we call home. If you have a passion for maintaining your own home as a safe haven for your loved ones then you need good tools that are durable and easy to use with high level of safety. The DR Power range of equipment guarantees this for their local US and international clients. They are all about country living and approach design and production from a country living perspective offering simplicity and usefulness in every tool.
They ratings among consumer reviews bear a testimony of quality and longevity making ownership a bliss.
FAQs
What is the starting mechanism on the SP22 lawn mower?
A push-button starter is located on the handlebar of the electric-starting model. Simply return the blade control bar to the cushioned handle, press the begin button, and you're ready to go!
How does the DR SP22 self-drive lawn mower work?
A squeeze bar, or bail, on the handle of a self-propelled lawn mower controls the driving system. When you squeeze the bar on a self-propelled, rotary-style mower, the revolving blades start spinning and the mower drives ahead on its own power. All that is required of the operator is to lead it. There is no need to flex your muscles.
How do you turn a self propelled lawn mower?
Front-wheel, rear-wheel, or all-wheel drive self-propelled mowers are available. Front wheel drive mowers are simple to use and allow you to spin the mower by simply raising the front wheels off the ground and tipping them back.