If you fancy 1250W of pure clean and inexpensive power to mow your grass the DR Power Equipment Pulse CE77021XENO Battery Lawn Mower is a good pick for an affordable fully electric lawn mower with self-propulsion of variable speed. DR claims that this machine is the ultimate combination of powerful machine technology and state of a art battery system. We set out to review the features and performance of the Pulse so that you do not have to risk your money buying another piece of junk. Here is what we found;
Features
Self-propulsion mechanism with variable speed
Lithium-Ionon 62 V Max battery with LiPRO tech
Brushless DC motor with 1250W
21" steel deck with single lever height adjustment
Vertical storage
0Ah battery charger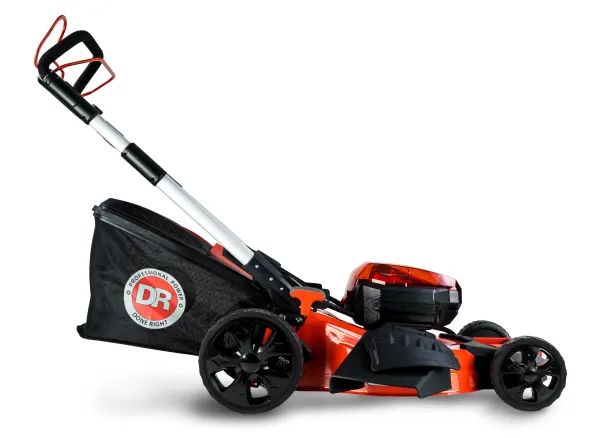 PROS
CONS

To 45 Minute Run Time
Powerful Brushless Motor (1250W)
3-In-1 Mower: Mulch, bag, or side discharge
One-stage Height setting: (6 positions, from 1.2″ to 3.5″).
Includes battery charger in kit
Quiet Motor
Space-saving vertical storage with no spillages

Can cut only up to 3.5"
Only about half an hour of runtime
Motor
The Pulse Mower by DR features a powerful 1250 W DC motor with battery power which costs you less money and weight in transportation. It is a relatively quiet motor that allows owners to cut grass late into the night without bothering the neighbors and when the power tariff is friendlier. The motor is powered by a 62V 5Ah Lithium-Ion battery with special technology to boost longevity and easy charging. With a fully juiced-up battery, you can anticipate up to 45 minutes of cutting on moderately difficult lawns of the fair gradient.
Lawnmower Control And Performance
This mower stands out for its agility and hardiness especially because they are backed by a solid reputation for gas-powered equipment. We can certainly begin to see the similarity between DR's reliability in the power tool scene and this new cutting-edge solution to future lawns for homeowners.
One of the most notable advantages of going electric is of course the cost reduction as you don't have to purchase gas for your mower. The oil lasts a long time since it's only for lubrication and this mower is much more efficient than small gas engines which put to waste much of the energy in fossil fuels.
Riding comfort
The DR Power Pulse electric Lawnmower CE77021XEN0 is not rideable but it is certainly one of the most convenient walk-behind mowers with a smooth self-propulsion system that has a special knob to tweak the speed. This way, you can teach your mower to move as fast as you are comfortable going while cutting clean with plenty of time to recycle, mulch, and bag as you wish. Additionally, the machine is super light with only 62 lbs. to push and pull which is quite commendable, especially in its class.
Cutting Quality
This mower provides for single-lever height adjustments and can cut at 6 different elevations ranging from 1.2 to 3.5 " The 1250W powered rotor and blade system is enough to shred through thick unruly grass easily. For small lawns, even a single battery will let you work at your pace while being thorough.
Durability
The DR range of products has been known for their durability. For instance, this mower features a competitive steel deck with no cheap plastic parts bolted on. The Brushless motor design is not only efficient but also lasts longer due to reduced wear and tear under normal working conditions. Carbon brushes are the weak point of most DC motors and begin to spark when loaded continuously for a short time.
Accessories 
Buyers also want an additional battery that can be adapted for several other uses in power tools by the same maker. An additional  5.0Ah hour might save you the 90-minute wait while your mower refills and restarts the mission.
You can take reign of the yard with two of these nasty guys. The intelligent battery software maximizes power, performance, and runtime. The DR Power system intelligently optimizes the replacement battery's performance for each product/application, ensuring that you get the most out of your experience.
Warranty
The DR Pulse Mower Electric comes with a two-year warranty, owing to some tough features including a traditional steel deck without the plastic bolt-on nose common on inferior mowers. Yes, the plastic nose saves money and weight, but we don't like it since it's less durable than a steel deck.
Conclusion
The DR Power Equipment Pulse CE77021XEN0 mower is great. You can put it through its paces on 5-to-6-inch grass, cutting steep inclines, mulching, and bagging, as well as driving it through larger weeds and several laps. If you wish to go from a smaller gas-powered mower to a more ecologically friendly choice, we recommend this mower.
FAQs
How long does a DR 62v battery last?
This battery has 5Ah and can run for up to 45 minutes at a low pace.
What is the lifespan of a DR lawn mower?
With appropriate care and maintenance, most lawn mowers may last for ten years or more.
Does DR Pulse need an oil change?
According to DR, as long as the oil level is correct and the suitable oil is used, it is not necessary to replace the oil regularly.
How long does it take to charge the DR Pulse battery?
When utilizing a standard charger provided with the equipment, the charging period is usually around an hour and a half.
Are DR 60v batteries interchangeable?
A fully swappable battery that drives a whole range of unrivaled electric DR tools, from handhelds to the heaviest, worst, and most power-hungry equipment in their arsenal, with best-in-class performance.