Makita began as an electric motor sales and service firm in 1915 and has since grown into a global brand with over 50 subsidiaries in over 40 countries. The corporation is a pioneer in innovation, with ten factories in eight countries producing top-of-the-line items. Makita's U.S.A. Inc. headquarters are in California, and the company has a large distribution network throughout the United States. Makita Corporation of America is based in Georgia and is part of a global network of ten manufacturing and assembly sites that deliver on-the-job goods to a wide range of customers.
Because of a strong research and development team, professional users such as contractors trust Makita to manufacture excellent products that are made to endure and have greater speed and operating time–with quicker battery charging time–than competitors. Makita equipment are used by professional workers on construction sites all around the world, and they know they'll get the power, performance, and durability they need to get the job done. On the job site, these workers are aware that Makita provides equipment that are small, vibration-free, and ergonomically designed. On a more personal level, the firm provides blowers, chainsaws, power cutters, trimmers, grass shears, and eco-friendly cordless lawn mowers that emit zero emissions and require less maintenance than gas-powered devices.
Many of Makita's outdoor power equipment devices, in fact, run on lithium-ion batteries and are designed for consumers who are concerned about air quality. The firm does, however, offer a number of gas-powered choices, like the 4-stroke Engine Hip Throttle Backpack Blower, which is driven by a fuel-efficient MM4 commercial-duty engine. Makita offers a heavy-duty anti-vibration system that attaches between the frame and the engine for increased operator comfort, even on powerful models like this one.
Here is a breakdown of the features and performance of the XML03PT1 cordless mower as per our standard criteria.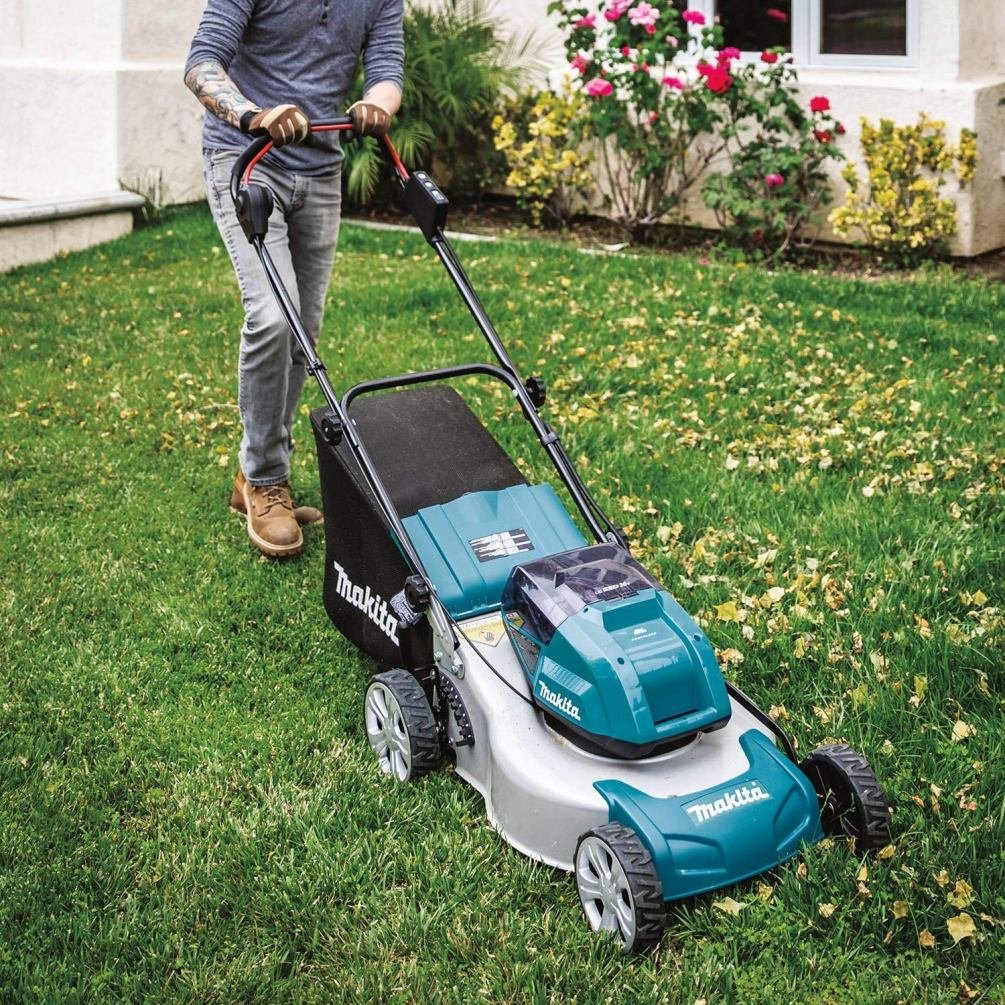 Features of the Makita XML03PT1 Battery Mower
Dual 18 Volt Lithium Batteries
36V Max
The Kit includes 4 batteries for seamless cutting
Comes with charger which can charger two batteries at a go
Reliable Steel deck (18")
10 cutting heights adjustable
Brushless motor design for maximum gas-like power
Revs to 3.3k RPM and 2.5k in Stealthy mode
Includes a 16-gallon bagger
Foldable handle design for easy storage and transport.
Motor
The Makita XML03PT1 is driven by a state-of-the-art brushless motor which replicates the power of gas engines while saving on energy and maintenance costs. This motor draws on two 18V batteries to drive the blade at a no-load speed of 3300RPMs with an option to step it down t 2500 RPM to keep cutting even quieter.
The motor has a soft start design with an electric governor to keep the speed constant regardless of the load.
Lawn Mower Control and Performance
The Makita XML03PT1 is a 18V cordless mower that gives the impression of same if not more power than a gas mower only quieter. The tool has a 1" wider cutting swath and a high-density steel deck that feels sturdy and reliable.
The mower offers handle and height adjustment with one of the most intuitive mechanisms we have ever seen on a lawn mower. You can choose between 10 different cutting heights, 4 more than the average lawn mower with an option to bag your clippings.
The Makita XML03 18V X2 cordless lawn mower makes a good clean cut. The front wheel centerlines give a good line of sight for the mower's cutting swath.
It's worth noting that Makita creates unique controllers for each model (for example, the controller in an 18V LXT Driver-Drill is not the same as the controller in an 18V X2 (36V) LXT Chain Saw). Furthermore, the Makita controller and battery communicate in both directions, which is a category first (other brands have electronic controls, but all have one-way communication between the tool and battery). The Makita cordless tool's two-way communication allows for real-time communication, which improves performance and power management e.g. the controller may "inform" the battery how much energy is required for the operation at hand
More performance features come from the coupling of electronic controllers and brushless motors. The 18V LXT Brushless Impact Driver (XDT16), for example, combines electronic controls to provide precise features such as four speed settings, Assist Mode for driving lengthy fasteners into wood, two Tek Modes for self-tap screws, and an auto-stop feature to avoid loosing a bolt nut while reversing.
Run time
This mower will give sufficient run time to cover ¼ of an acre of lawn with juice to spare when running on the 5.0Ah battery pack. Depending on where you buy the kit, it might come with 4 batteries which is great since you can cut infinitely with the dual charger for optimal rapid charging also included. With the battery broken in, you can probably get twice the coverage on a single set of batteries on a single charge. The official claim by Makita is 7300 sqft per pair of 5.0Ah batteries. The parallel arrangement of the batteries might have a lot to do with the longevity of this mower when cutting.
Riding comfort
The total weight of the Makita XML03PT1 is something to be concerned about. The mower is not self-propelled, and pulling it up an incline can be difficult. Particularly if the 16-gallon bagger is almost full. It is still considerable lighter than gas models but still a bit on the heavy side for an electric option, perhaps a worthwhile tradeoff for guaranteed durability and sturdy design.
Durability
This mower comes with a HD steel mowing deck which feels durable and sturdy even for a mower which has to deal with less turmoil thanks to the quieter electric engine. Additionally, It has has an IPX4 rating, which means it is dust and water resistant. It has "Extreme Protection Technology (XPT)," as Makita calls it. XPT is a protective seal inside the tool that channels water and dust away from essential internal components for enhanced performance in severe environments.
Electric lawnmowers, such as the Makita XML03PT1, will always be easier to maintain than their gas-powered counterparts of same size. The most crucial aspect is to remember to charge the batteries after each use. After that, depending on how often you mow and how big your yard is, you'll need to change the blades every two to three years.
Final Verdict
This mower is a fantastic addition to Makita's massive 18-volt toolkit. The fact that they retained this tool on the 18-volt platform means that everyone who uses their tools at home may now use their OPE goods. It also implies that, because you may already have the batteries, you may buy these OPE tools as a bare tool for a lower price.
FAQs
How long does the battery last on a Makita lawn mower?
On two 5ah batteries, Makita claims it will run for up to 30 minutes. I've discovered it takes far longer than that, closer to an hour. The folding handle was the only thing that needed to be put together and attached to the mower.
How long does a lithium battery lawn mower last?
The average lithium-ion battery lasts 3 to 5 years or 500 charging cycles. The charging cycle definition makes more sense since if the mover is used more frequently than usual, the 500 cycles will be finished in less than three years.
How long do batteries last on cordless mowers?
A good lawn mower should last between eight and ten years, whereas the battery in a cordless mower should last about five years.
How long does it take a Makita lawn mower battery to charge?
The new battery has double the run life of the Makita 3.0Ah LXT® battery while weighing and measuring the same as the lower-capacity 3.0Ah, 4.0Ah, and 5.0Ah LXT® batteries. It takes only 55 minutes to fully charge, making it the quickest charger in its class.