If the motor on your self-propelled gas lawn mower has finally given up the ghost or you just want to upgrade to a hassle-free electric variant then you have come to the right post.
The Ryobi 20-Inch 40-Volt Lithium-Ion Brushless Cordless Walk-Behind Electric Lawn Mower with 2 Batteries is a great pick in this category. Ryobi has a long history of producing high-quality equipment with professional functionality at an accessible price for homes all around the world. Ryobi produces everything from drills to lawnmowers, and the majority of it is battery-powered. So, how good can a battery-powered lawn mower be, even with its deep knowledge of batteries? Was Ryobi up for the task?
Features
2 40-volt Lithium-ion Batteries
40-volt Charger
Bag for grass clippings
Mulching Plug
Fuse Key
3-year full warranty (including the batteries)
Adjustable mowing height from approximately 1.5 in. to 3.75 in.
90-minute charge time per battery
20" mowing width
47 lbs Foldable for storage or transport
Rated for yard sizes 1/2 to 1 acre
PROS
CONS

Light maneuverable lawn mower
Foldable storage-saving build
Batteries equipped with a power meter
Charging is cheaper than gas
Quiet drive unlike gas mowers
Bags and mulches

Batteries aren't free or cheap
Shorter runtime on a full charge
Motor
This mower is completely constructed and ready to use right out of the box. Only the fast release type catches on the handle needed to be unfolded and tightened. It's well-made and light enough that I can easily pick it up and transfer it to the back of my van when folded. The battery compartment houses the current battery, as well as a slot for an additional DSC 0375battery and the 'key,' which is a fuse that prevents the mower from turning on when pushed.
Riding comfort
The mower comes to life once you activate a button and pull the handle back. There is no such thing as a 'pull-start.' This is a fantastic safety feature to have when installing or removing the mulch plug, turning the mower on its side to inspect/remove/reattach the blade, or leaving it where a child may find it.
Lawnmower control and performance
How often have you been requested to assist a parent or friend in mowing a lawn? My Scotts reel mower doesn't fold to fit in my vehicle, and a 130-pound self-propelled gas mower isn't simple to lift. That, with the fragrance of a gas mower, will make your car smell like a gas mower. Gas and oil are two types of fuel. Oh, and don't forget your dirty gas can, which you should attempt to avoid spilling with your hefty mower.
The Ryobi battery-powered mower folds for convenient storage are somewhat easy to lift when folded (I had back surgery in 2012, so I pay attention to this feature), and didn't stink up my truck.
Cutting quality
It's also simple to adjust the mowing height. It's a single handle with seven locations ranging from 1.5′′ to 3.75′′. The adjustment on all four wheels is controlled by a single handle.
It's 44.7lbs pushing weight and that isn't as heavy as it sounds. A Scott's mower weighs in at 25lbs, but when you push a reel mower you put extra effort into it to turn the gears and blade. We found this to be about the same or less effort than the reel mower. We recently Reviewed the Toro 30" Time master and that weighs in at 132lbs!
Battery Longevity
You can't refill the gas for electric mowers but luckily the RYOBI 20" does not fall short of expectation as it can easily give you 30 minutes of runtime sufficient to cut quite a chunk of the area. The recharge times are 90 minutes so you can alternate between batteries if you have a spare one with breaks for a beer in between.
Accessories
The batteries each include a four-light power meter that updates/blinks as they charge, which is convenient because it eliminates the need to check them. For every charge, the charger assesses the battery, indicating whether it is good or poor and if it can or cannot charge it. A battery that is excessively hot or cold will not be charged by the charger. The main thing is that you don't have to think about it because the charger takes care of everything. The batteries never fail to charge from completely flat in all of the mowings and they don't appear to become hot with continuous operation.
Conclusion
Do you need 800 horsepower to mow a lawn? Nope. Even so, it's hard to imagine any grass that the RYOBI 20" couldn't cut. It might surpass any expectations you have on an electric version with not only sufficient battery power but also adequate acreage per gallon and bagging or mulching.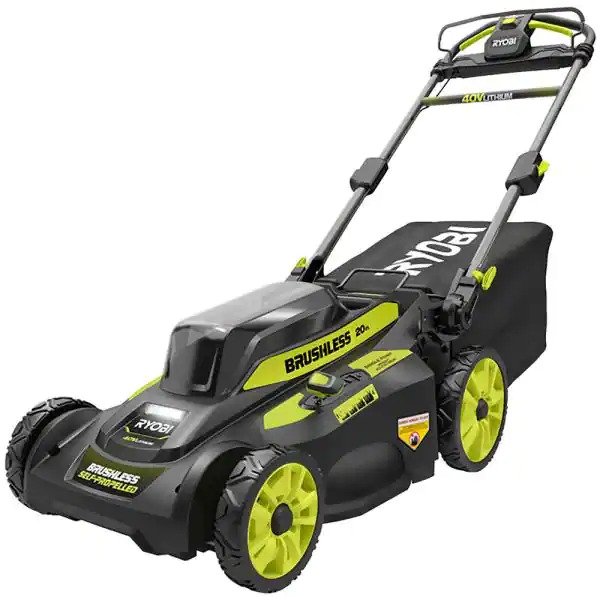 FAQs
Can I leave my Ryobi battery in the charger?
Ensure that the battery does not overheat. Don't Leave the Battery on the Charger: Unless your tool's instructions clearly state otherwise, remove the battery from the charger after it has finished charging. Overcharging can damage a battery and shorten its life, and not all chargers shut off automatically.
How long do RYOBI mowers last?
This mower's lithium-ion battery lasts up to 40 minutes on a full charge and is compatible with other RYOBI devices. If your grass is well-kept, you'll have plenty of time to mow your lawn before the battery has to be recharged. Up to two batteries can be stored in the mower.
How long does the Ryobi battery last?
If you keep your batteries properly, they should last anywhere from 3 to 6 years on a shelf.
Why is my Ryobi battery flashing red and green?
The Ryobi battery has gone into sleep mode. What exactly is this? The most common reason for flashing red and green lights on your Ryobi Charger is that the battery has been overcharged.
Why is my Ryobi battery blinking green?
The battery is charging when the green LED light flashes and the red LED light remains constant. The battery is fully charged when the red LED turns off and the green LED remains steady.