PROS
CONS

Optimized deck dome for better grass removal when mulching
Has fewer grass escape points than HRR216
No bagging obstacle in the rear deck
Sleeker modern design for curb appeal
Rise and Drive features with 7 point height adjustment, front and rear
Smartdrive with variable speed from 0 to 4MPH
2 Position handle height
Made in the USA

2 points height adjustment.
This post focuses on introducing the all-new Honda HRN Series lawn mowers from a brand you trust for legendary reliability and quality. The HRN216VLA model lawn mower is a smooth-running walk-behind mower with advanced features for outstanding performance and convenience when it comes to walk behind mowing of small to medium lawns. These include but are not limited to the convenient self-replenishing electric key start for effortless and sure starting every time and the Honda adjustable smart drive system that lets you adjust the speed of self-propulsion to match your stride.
The Honda HRN series came to replace the HRR series with the most notable upgrades being the power plant which is now the completely rebuilt GCV170 in place of the GCV160 for increased power output of up to 9% more power and 18% more torque that the latter. This means that you can now power more through even thicker heavier grass with an even smoother and uniform cut.
Honda has been in the power equipment global market for over 35 years and it was during their recent anniversary that they unveiled the all powerful HRN21 lawn mower series to replace the already formidable HRR series. The mower was designed from scratch to replace an already trending lineup. This is just an example of Honda's commitment to user experience to go hand in hand with high sales volumes. They replace their previous issue while it was still in its twilight years selling in excess of 300, 000 units annually. This was possibly to reduce the cost for consumers and improve efficiency for the manufacturer with a smoother less complex yet more powerful and reliable motor. The GCV170 is down to only 39 components from the 106 parts of the GCV160. Fewer moving parts equals greater efficiency and less need for maintenance.
If its time you upgraded your lawn mower and particularly if you enjoyed the HRR Honda series, you might love the new comfy features of the HRN models. Here are notable features that will make your residential lawn care such a bliss in the coming summers.
Features of the Honda HRN216VLA Gas Lawn Mower
Robust GCV170 engine by Honda
Steel 21'' deck with sleek design language
7 Mowing height adjustment 1"-4"
Variable Position Smart Drive ground speed 0 to 4.0MPH
Variable Speed Fixed Gear Belt Clutch
Electric/Recoil start
Slipping belt drive
2 Handle height positions
8" plastic wheels with industrial quality tread
Ball bearing mounted wheels for less rolling resistance
3 in 1 Mulch Bag and Discharge.
3 years residential warranty
Engine
The engine of the Honda HRN216 is a totally rebuilt GCV170 engine, which is the most significant difference. It reduces from 106 to just 39 components. It's easier to maintain, has greater fuel economy, and produces 9% more power and 18% more torque than the GCV160 it replaces.
It also has an all-metal gearbox, which is unusual for a lawn mower in this class. It's a fantastic fit because Honda manufactures both the engine and the gearbox. Other alternatives frequently combine engines and transmissions from various manufacturers, which they must put together.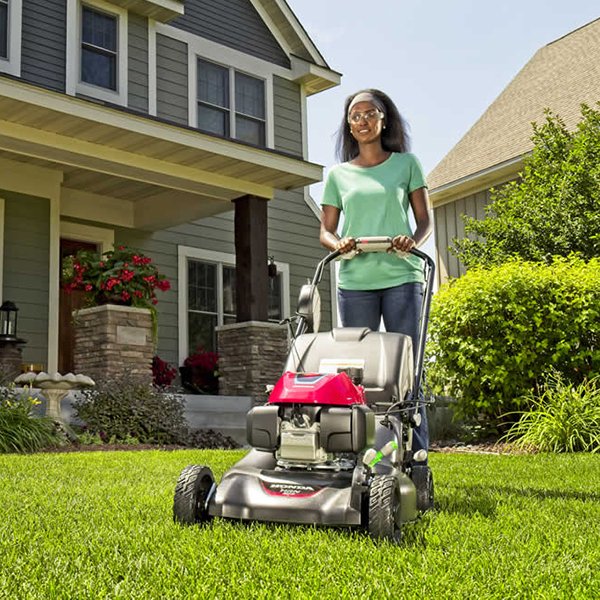 It's still a home engine, but it's a lot more powerful. It has the same footprint as the GCV 160, thus it may be used with the same equipment. Notable improvements are;
Fuel spout has a 60 percent wider diameter for simpler refilling
The oil level was raised and relocated closer to the crankcase.
Access to the air filter without the use of any tools
On the top front of the engine, the spark plug is easily accessible.
Carb stud bolts are easier to assemble.
To access and replace the crankshaft, a one-way strip down is used instead of removing the complete engine.
CycloFlow — a compact combustion chamber with a longer stroke and steady combustion over a broader operating range – is an improvement in the auto-choke system.
Muffler noise at a slower speed that isn't as bothersome
Riding Comfort
There is a significant alteration in the driving operation for self-propelled variants. You may adjust your speed from 0 to 4 MPH using the Smart Drive push bar under the main handle. It's wide enough to operate with your thumbs while keeping the presence bar engaged with your other fingers.
Moving up the thumb bar, a slide in the center allows you to change it into five settings. It's likely that you'll locate a comfortable spot to rest. As you work your way around the yard, controlling your pace becomes second nature.
With better ergonomics, the idea was to minimize thumb fatigue. It appears to operate in the few time I've had to try it. Once we receive one in for a comprehensive evaluation, we'll test it for a longer length of time.
The 2-way ratchet arrangement on the drive was one change that was instantly noticeable. A key in the drive allows the rear wheels to freewheel in forward and reverse when the drive bar is released. Only forward freewheeling was available on the HRR. It's especially obvious while working around landscaping or corners where you need to turn often.
Performance of the HRN216VLA lawn mower
A comparison of the HRR and the HRN216 reveals that Honda is pursuing a sleeker, sexier design that is an upgrade over the prior utilitarian appearance.
The design team opts for a two-lever height adjustment system, one on the front axle and the other on the back axle. The solid rod is connected to the wheels via a rivet, resulting in a robust structure that resists torsion, which is common in 2-point or 1-point designs.
The diameter of the chute was also enlarged, making it more difficult to clog. The new design cut a fast 5″ cut 131′ in Honda's internal testing, more than double the distance the HRR 216 cut before clogging (62′).
If you're acquainted with Honda's commercial HRX mowers, you'll recognize the 3-in-1 Clip Director in the new series. For mulching, this is a lever that cuts off the exit airflow. Flip it over to the bag setting and roll if you want to bag or utilize the rear discharge. There's no need to be concerned about a plug.
Cut Quality
Honda's twin-blade design makes the HRN216 series more effective at mulching. The clippings are smaller and there is more grass in the bag when you bag, so you don't have to empty it as often.
You may also raise the front end of the vehicle and bag more efficiently than when all four wheels are level. It's a robust, long-lasting equipment with its heavy-duty 21″ steel deck.
Durability
We'd be remiss if we didn't mention Honda's manufactured in the United States. While not every component is made in the United States, the majority of the engine and mower parts are made in the Swepsonville, North Carolina factory we visited. The mower is assembled entirely at that facility, which is also where the product team created and designed it.
Accessories
A 17-gallon grass bag and rear discharge with chip director come standard with the HRN216VLA mower. If you want the same perks without the self-drive ability, then you can opt for the PKA version. With the compatibility of Honda machines and the fact that the new motor has the same foot print as the original one, you can rest assured that your aged mower will not go to waste but can instead be used as a hospital for the new machine after decades of use.
Warranty
Honda offers a short 90-day commercial warranty and a long 3-year warranty for residential users. This is because the GCV170 motor is residential class and not for commercial lawn mowing business.
Conclusion
Looking at Honda's American facilities in general, there is a strong commitment to manufacturing in the United States and North America in general. Many of the automobiles and goods they produce have more American DNA than those produced by American corporations who outsource much of their work.
When you sell 300,000 lawn mowers a year from a single brand, common sense dictates that you keep making them. Honda Power Equipment, on the other hand, isn't content to wait and is replacing the HRR216 series with the Honda HRN216 series.
FAQs
How to get aowner's manual?
Your lawn mower will naturally come with an owner's manual showing basic care and troubleshooting tips but don't worry if you lost yours because you can always download a copy for any model from the product website.
Is Honda a good brand for lawn mowers?
Honda surely comes out on top when it comes to gas powered lawn mowers showing a great deal fo quality and reliability with mowers that last longer than a decade easily.