The high-output brushless motor in the DeWALT 20 Volt Max 3-in-1 cordless lawn mower provides more powerful performance and higher torque in high overgrowth. Two 20 Volt Max batteries are used to deliver 2x the voltage. Mulching, bagging, and rear clipping discharge are all options with the 3-in-1 capabilities. It's perfect for lots up to 1/4 acre.
For longer duration and optimal compatibility with DeWALT battery systems, this lawn mower may be connected with medium capacity 20 Volt Max DeWALT batteries or higher rated FlexVolt® 20 Volt/60 Volt Max batteries. With a heavy-duty 20-inch metal deck and quick and easy single lever height adjustment ranging from 1.5 to 3.4 inches, it's intended to help you get the job done. For convenient travel and storage, it incorporates folding and raise handles. Two DCB205 5.0 Amp-hour 20 Volt Max Lithium-Ion batteries, a DCB112 standard charger, a collecting bag, a mulching plug, and a safety key are included with the lawn mower.
Features Of DeWalt DCMW220P2 Lawn Mower
Powerful brushless motor
(2) 20V MAX* DCB205 5.0 Ah 20V MAX* Lithium-Ion batteries
DCB112 Standard Charger included.
3-in-1: mulching, bagging, and rear discharging
Heavy-duty 20 in. metal deck
Single lever height adjusts ranging from 1.5 in. – 3.4 in.
Collection bag, Mulching plug and Safety key
Folding handle and lift handles for easy transport and compact storage
3-year limited warranty/1 year free service contract/90 day money back guarantee
PROS
CONS

3-in-1 mowing deck provides mulching, side discharge or bagging options efficiently
Cordless design makes it easy to maneuver
Folding and lift handles offer easy transport and compact storage
Powerful brushless motor and (2) 20V MAX* batteries working simultaneously for high power output
Heavy-duty 20 in. metal deck
Single lever height adjust ranging from 1.5 in. – 3.4 in.

Electric mower takes time to recharge and has limited run time per charge
Motor
In high overgrowth, the high-output brushless motor provides strong performance and boosts torque. Brushless motors are more efficient and powerful than brushed motors, and they also last longer. This simply implies that your motor has fewer grinding elements that are susceptible to wear and damage due to friction. With a peak current of 5.0Ah, the motor can use up to an hour's worth of battery power on a single charge.
Lawnmower control and performance
To check how effectively the mower handles 4 1/2-inch grass, we lower the mower deck all the way down. In DeWalt's example, the 1 1/2-inch minimum cutting height was sufficient for cutting a clean swath through.
That means it has lots of power, but you shouldn't use it to mow your grass full-time. Because the mower lacks a powerful enough ejection to consistently remove all of the grass, it jams up rapidly. Even for a domestic gas mower, this isn't unusual.
Although its performance is superior to that of most gas mowers, its MAX batteries leave much to be desired. You might consider updating to fresh new DeWalt 60V FlexVolt batteries to fully enjoy its power. This is especially relevant for people with lawns larger than one quarter of an acre.
Riding comfort
We were pleased usability of the machine especially its three-in-one capability which is amazing. It may be used as a bagger, mulcher, or side discharger. Electric mowers are lightweight and easy to move. This is a great lawn management product for small and mid-sized lawns. It's not for commercial usage or yards with a lot of grass and bushes that aren't well-kept.
Cutting quality
Everything you need to bag, mulch, and side discharge is included with the DeWalt 2x20V Max Self-Propelled Lawn Mower. Overall, the cut quality matches what we've come to expect from battery-powered mowers. Bags, mulching, and side discharge are all viable options. However, some models perform better in all three areas because to increased cleaning power and airflow.
 We have no issues about the cut evenness. We didn't give the mower enough overlap, which resulted in the blades standing tall. Normally, we'd chalk it up to human mistake, but with this mower, it's more likely than with others.
Accessories
Because charging takes over an hour, DeWalt provides two 5AH batteries, a charger, and a bag in the set. You may buy extra batteries to prolong your cutting sessions. Switching the stock batteries with Flexbolts with 6AH will fix the runtime issue and squeeze more power into each session.
Final Verdict
The DCMW220P2 20V cordless mower from DeWalt is now available. The mower, like other DeWalt products, was solidly constructed and powerful, according to users. It's simple to operate and performs well while cutting and mulching. With the DeWalt 20V Max and 60V Flexbolt Battery System, it's smartly compatible with other products, making it a very appealing option for customers who already possess DeWalt power tools. The mower's original 5AH batteries, on the other hand, underperform, leaving most owners seeking additional power.
 To get the most out of this mower, you'll need to buy the 6AH Flexbolt batteries. That said, the DeWalt DCMW220P2 is a high-end mower that gets the job done if the battery power is sufficient.
The DeWalt Lawn Mower is still a terrific bargain, even with the added cost of stronger batteries. It works well and is constructed to last. With a pair of strong batteries and careful maintenance, you can expect it to last for many years.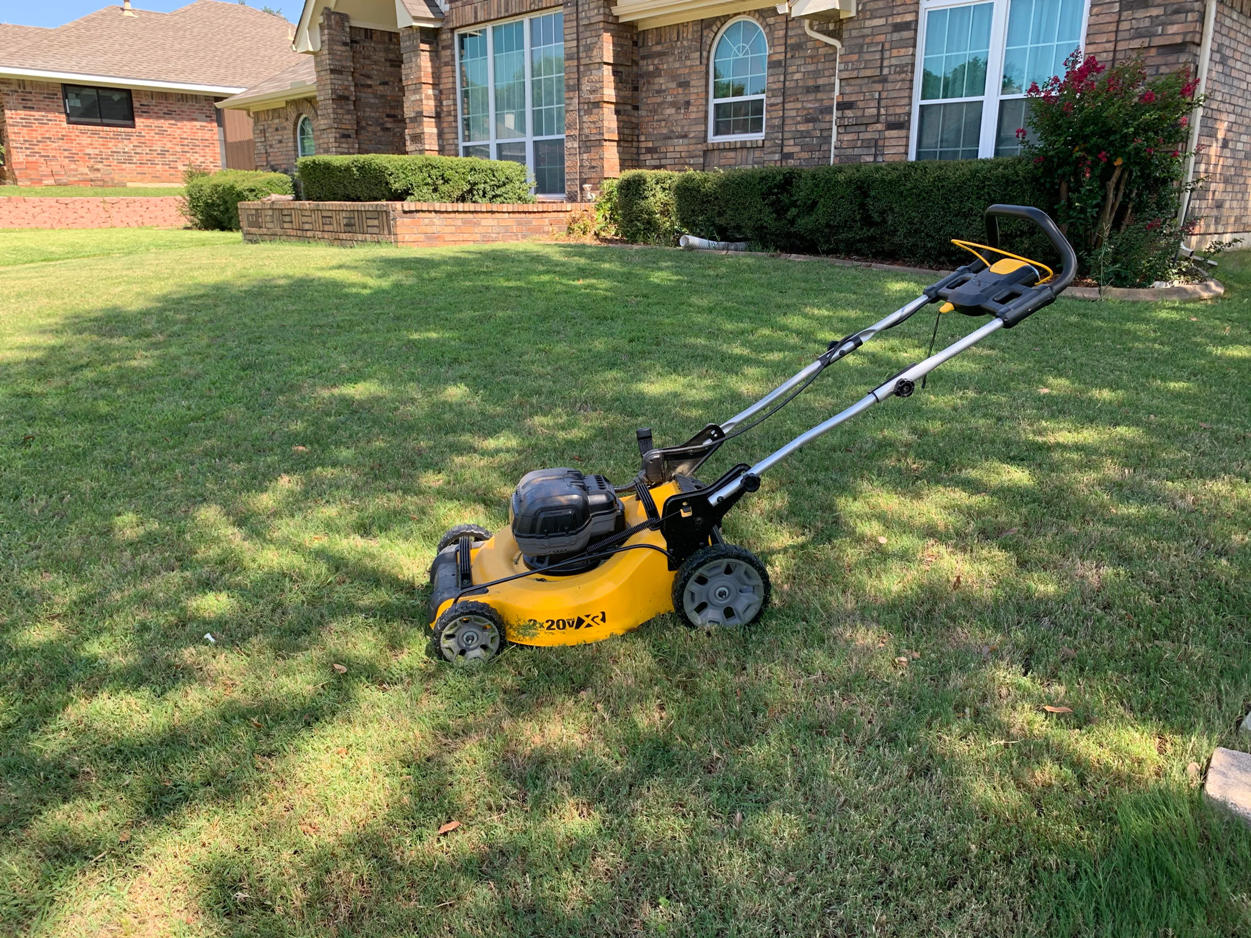 FAQ
How long can the mower run on the stock 20v 5AH batteries?
The 5AH batteries provide the mower roughly 15 to 20 minutes of operating time each charge cycle.
Are the 9AH Flexbolt batteries compatible with the DeWalt DCMW220P2?
Yes. The 9AH Flexbolt batteries are compatible and will fit some Dewalt mowers including this one.
Will a single 60v Flexbolt battery do for the DeWalt DCMW220P2 mower?
No. You will still need a pair of 60v Flexbolt to run the DeWalt mower.
Is the DeWalt DCMW220P2 mower self-propelled?
No. The DCMW220P2 is a push lawn mower with no self-propulsion.
What is the DeWalt DCMW220P2 mower's length when folded up for storage?
When folded, the mower measures 34 inches by 70 inches when extended.
Is the dual charger included with the 2 20v batteries?
No. A single charger is included with the mower.
How long is the DeWalt DCMW220P2 mower's blade?
The blade length on this mower is 19.5 inches.