Looking for a lawn mower as a home owner or a small business entrepreneur for your lawn care and maintenance? A mower that does not only eat grass but digest it too with nice and effective functionality in the heavy stuffs which can just find the speed it likes and the job is done? Yes, not forgetting that all things have the bad side and the good side too and research being carried out day and night to improve on flaws, it is good to check out for whatever thing you want closely considering the attributes and unique features of it to suit your purpose for a progressive move and desired results. How much does it cost and is the price worth it. These are some of the interesting questions you could have regarding the machine you would like to have for your lawn care. Bigand small lawns let's see what we can offer here without much ado.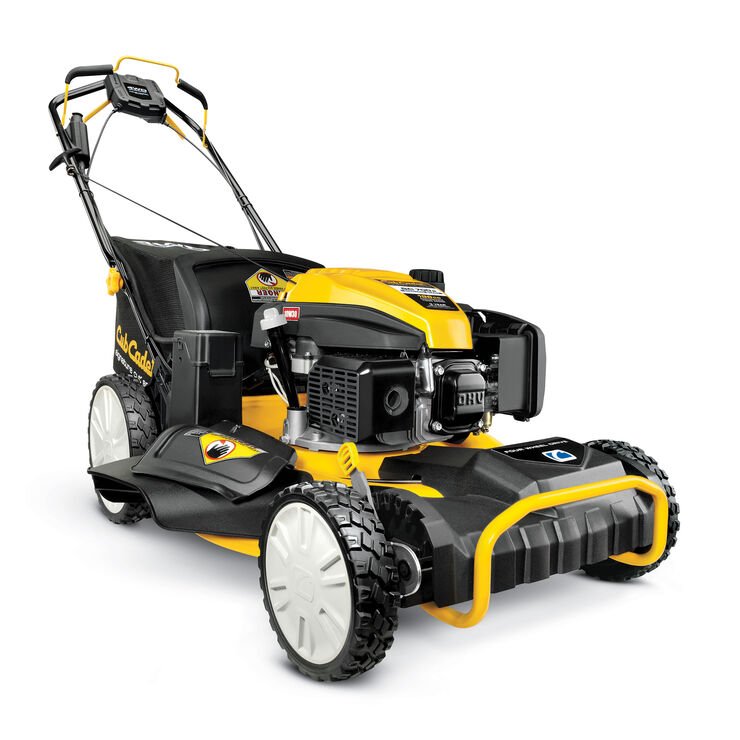 Features
Here are major features of the lawn mower which will help you make a solid decision whether this machine suits your desire for your garden care.
196cc engine displacement
1.3 qt fuel tank capacity
Cub cadet® engine
Cutting deck width 21 inch
Washable deck
Dual –lever, 6 positions height adjustment
Cutting range 1.25-3.75
Signature cutting system.
8front wheels and 11 rear wheels
Polybushing bearing
Integrated mulch plug
20oz oil capacity
2.3 bushel grass capacity
3-in-1 bag, mulch, side discharge
Selectable FWD, RWD AND AWD drive system.
PROS
CONS

This mower can be used in hilly and steep yards
Has a reliable engine @199cc
It cannot be used to cut small and tall grass quite well

Can easily get clogged.
Will not constantly start
Engine
Sc 700E gas a 196 cc engine displacement from cub cadet and OHV, which start with autochoke and sure start quarantee®.with the bigger engine on the same deck size i.e. 21 inch, the machine instead of cutting grass like scissors, cutpaper as a reel mower does, the rotary mower spin a horizontal blade fast enough to cut the grass as it hits it. It is a good one in terms of power and speed. Mowing a small piece of land like ¼ acre, the engine is reliableand durable meaning it can serve you a little bit longer without having to repair or replace it.
Riding comfort
When it comes to maintaining your lawn, it is all about staying in control. The lawn mower has a typical steering system which responds well during the mowing practice. It also requires systemic performance to suit your need with features like infinite speed control, single hand operation and superior traction.
To start the engine, you pull up the yellow bar and pull on the handle and then release the bar.
Usingelectricstart, you go to the yellow bar and push the button and the engine starts ready to go. The operator can choose front wheel drive, rear wheel drive or four wheel drive and use them independently at any time to do expertly navigation at any given terrain with all features installed in it, you cannot find problems and difficulties in driving the lawn mower, it's an easy one to operate since it is self propelled and requires little hand support to perform.
Lawn mower control and performance.
Lawn mower sc 700E is an easy to use machine since it is self propelled and the only thing that is required if for you to walk behind it and control its movements.
Push or walk behind mowers commonly feature a pulling mechanism designed to turn the crank shaft and start the mower engine
The pulling consist of few different parts working together to allow start the mower engine
It is well featured with a big engine which is powerful combined with a 21 inch blade ensuring a wide coverage, and also a 3-in 1bag, mulch bagger and side discharge which allows collection of good quantity of grass.
Facilitated with a dual-lever adjustableup to6 differentheights also enhances its proper function in cutting the grass. It has a pan tented smart jet wash system which is highly pressured and this ensures the undercarriage of grass that remains and debris are washed out well after every use for machine maintenance ensuring its longetivity.
1.3 qt fuel capacity for a full tank provides economical practice also. For large lawns, gas as a power source is commonly preferred since it provides more power whereas for small yards electric power is suitable and is also ecofriendly.
The batteries operate at a nominal 12 volts.
It is recommended to fully charge the battery before first use as well as anytime the battery is not used for longer than 30 days.
If the battery keeps dying during operations, the alternator provides voltage to the lawn mower while the engine is running. The voltage regulator sends the proper amount of voltage from the alternator to the battery to keep it charged.
It is important to wear safety glasses and safety goggles when doing adjustments and repair
A lawn should be inspected before mowing to remove any possible sticks, stones, wires bones etc which might be picked and thrown by the blade.
The mower should be checked for any damaged parts and repair and adjustments done before use to avoid injuries.
In case of a fall, you should not hold on the mower instead you should release the handle immediately, step back from the mower and fully extend your arms
Instead of cutting grass like scissors, cut paper as a reel mower does, the rotary mower spin a horizontal blade fast enough to cut the grass as it hits it.
The blade sits within a casing called a deck which keeps the grass and other objects from flying in all directions when stuck
Qualitycut
With wide deck system, mulching, bagging, right side discharge, plenty of power, and excellent controls, the machine provides a nice cut whether the grass is tall or small, even lawn or uneven one the desired cut is ultimately achieved cleanly.
It's all 4by 4 drive, mulching, bagging, right side
Discharge plenty of power and excellent controls makes it excellent for its fuctions.SC 700E is lighter at 600lbs thus enhancing its easier and quick cut although it's mostly powered by gas. The low gas consumption makes the performance ecofriendly, for this machine, you don't need to keep changing the oil. Comparing it to SC 500, the cub cadet sc 700 is far much better since the model has all the 4 drive wheels whereas SC 500 has rear wheel drive.
Durability
The machine has an E coat corrosion defense system which enables it to easily resist tear and wear. With proper maintenancee.g. changing of oil and gas, blade sharpening and replacement change of air filters, repair of damaged and worn out parts as well as proper machine storage during summer as instructed by the owner'smanual, the machine lifespan is increased and its longevity assured.
Accessories
Lawn mower can be more powered to enhance its performance where gas is more powered as compared to electric power oiling or greasing is also necessary for lubrication of machine parts enhancing the movement. Speed at which the machine moves is also adjustable.
Discharging-how far and evenly clippings were dispersed from the discharge chute. Bagging-tells how much clippings the bag held before it filled or the chute clogged. Mulching-reflects how fine the clippings are and how the mower distributed its clippings over the lawns surface.
Warranty
The mower has 3yrs warranty.
Conclusion
The larger bag and wider deck makes the lawn easier and a little quicker, these are additional improvements to the mower an overall quality mower, it can work on different types of lawns, small and big, leveled and those whish are not uniform, and this is possible when the mower is suited with the right accessories for proper functioning e.g. use of gas power for large lawns.
Its ability to conquer plenty obstacles e.g. uneven and hilly lawns makes it special thus worth buying and using.
If you are looking for a mid price mower as a home owner or small business entrepreneur, then you would be hard pressed to find a better value than the cub cadet SC700E.
It is one of the best and effective lawn care with solid performance. This is the last mower you ever need purchase. With a variety of tests we have come to our conclusion and you are welcome to take our word for it.
Is self-propulsion lawn mowers any good?
Absolutely yes, the operator just need to hold the handles and walk behind the lawn mower steering and directing it to the direction he want it to mow, no much strength is used by the operator and the operation is atlest efficiency in fuel consumption.