When people search for a new riding lawn mower, they either have a lot of land that needs to be mowed, or don't have enough time for the job. No matter why you are in need of a new lawn mower, know how many years it is for use before buying.
Riding lawn mowers typically last for 7-8 years. Keeping up with routine maintenance will help your mower to last a decade or more. Make sure to clean it, check for broken components and match the size with your needs.
In the following section, we'll examine some factors that can affect the longevity of a riding mower. Then review life expectancy by brand. We'll finish with a list of the longest-lasting models on the market.
Is My Riding Mower Going to Last Long?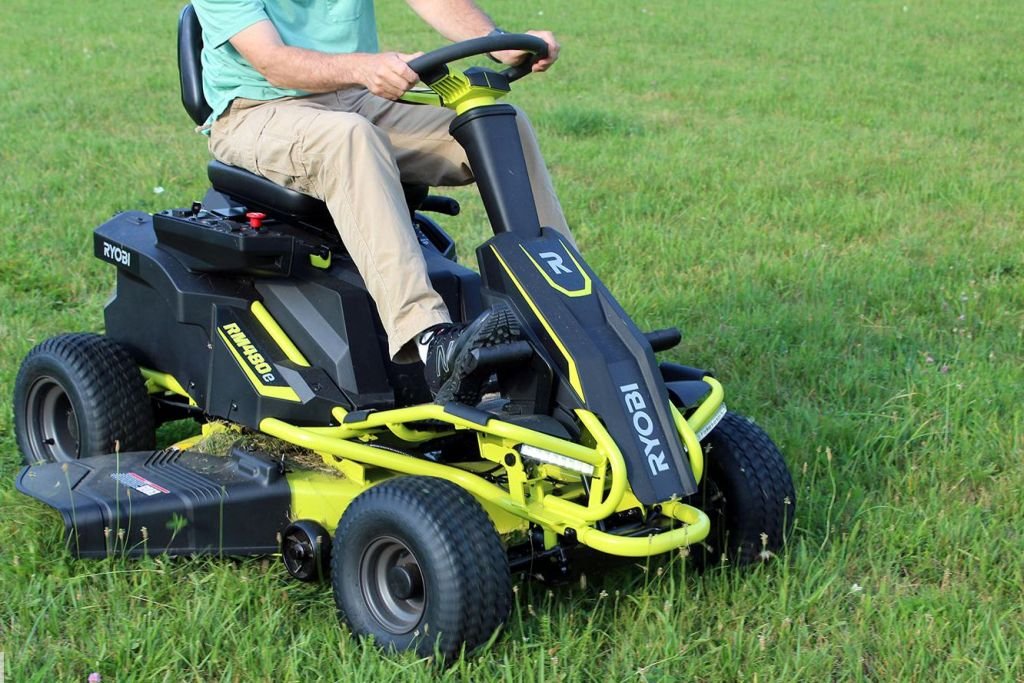 You may wonder how long your riding lawn mower will last. Bobvila says that an average riding lawn mower will last between 7 and 8 years if properly maintained.
A lawn mower with a 200-hour rating, however, might only last a few years depending on how often you use it. As a general rule, a more expensive lawn mower is expected to last 500 hours or more. Of course, the higher the hourly rating, the longer a lawn mower's life expectancy will be.
Regardless of the rating of the product or life expectancy, the equipment could potentially break down and run down prematurely.
To understand some of the factors that can cause a riding lawn mower to break too quickly, let's have a look at a few things:
Not just cars, riding lawn mowers require a lot of maintenance as well. If a riding lawn mower isn't properly maintained, it will break down too quickly.
If you always wait until the grass in your yard is long, at 4-5 inches, before cutting it down, you might be subjecting your lawn mower to dangerous circumstances. This leaves behind a build-up of clippings and debris, shortening the life of the machine.
It is important to take into account the size of the lawn when choosing a riding mower. If you are using a light-duty mower on a long lawn that takes several hours to cut, it would be inappropriate to use it on tougher terrain. The mower's service life will undoubtedly be reduced if it is used continuously for this purpose.
A lawn mower's maneuverability, construction, and durability will determine its longevity. Riding mowers that lack these essential components will definitely break down quickly. When acquiring a riding mower, you should search for well-constructed blades, reels, bearings, etc.
The most common mechanical fault is a clogged air filter, dull or loose blades, or a faulty spark plug. In the presence of these faults, a breakdown is imminent.
Maintaining a Riding Lawn Mower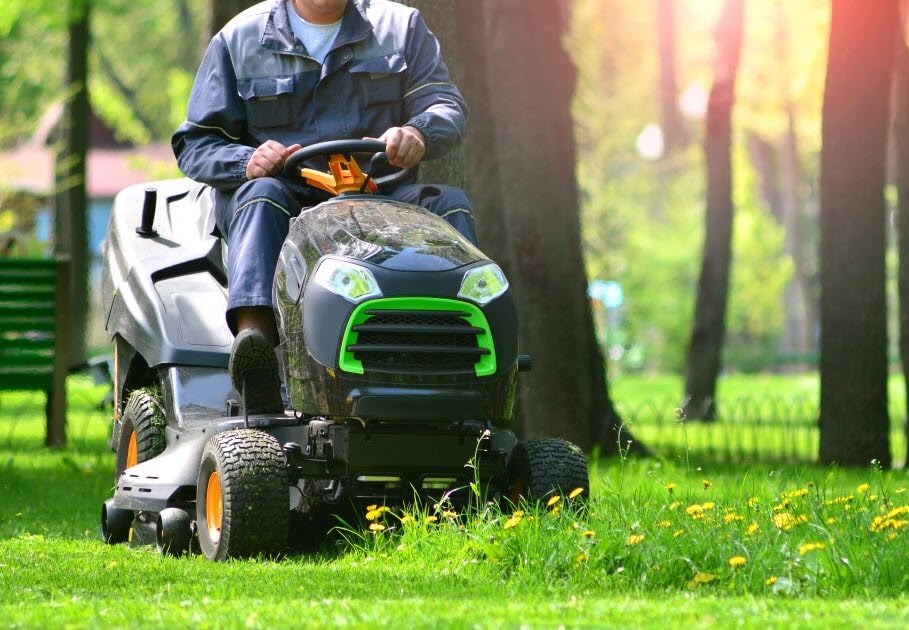 After considering the factors that can shorten the lifespan of your riding lawn mower, it's important to investigate countermeasures that can make the machine last longer.
You might want to ask yourself, "What maintenance practices will ensure the longevity of your riding lawn mower?"
In order to succeed, you must do the following:
Tune-up for engines
If you'd like to ensure safety and efficiency, we recommend letting your mower warm up a bit before you run it full-throttle.
A regular and proper maintenance schedule is essential
If your riding John Deere S100 lawn mower model is underperforming, you'll want to check its air filter and engine fins as part of regular maintenance. Debris around these areas is likely the cause of your problems.
Fuel should be of high quality
If you have a lawnmower with plastic or rubber parts, filling the fuel tank with ethanol-infused gas can be disastrous. If you want to keep your lawnmower from gumming up and having stale gas, we recommend using a gas stabilizer.
A proper oil change is essential
A riding lawn mower's oil should be changed regularly to prevent early machine breakdowns. If possible, it's ideal to change the oil every 50 hours. However, we recommend emptying the riding lawnmower's fuel tank completely before moving it, as it may cause some spills.
The proper maintenance of blades
As the front-line cutter of the riding lawn mower, the blade should always be cleaned thoroughly. Regardless of the riding lawn mower brand you purchase, regular maintenance can extend the blade's life significantly.
Changing spark plugs
The lawnmower spark plug should also be replaced every 100 hours of use, along with the air filter. It may seem irrelevant, but old plugs can cause unexpected damage to the mower.
For how long can you drive a riding lawn mower?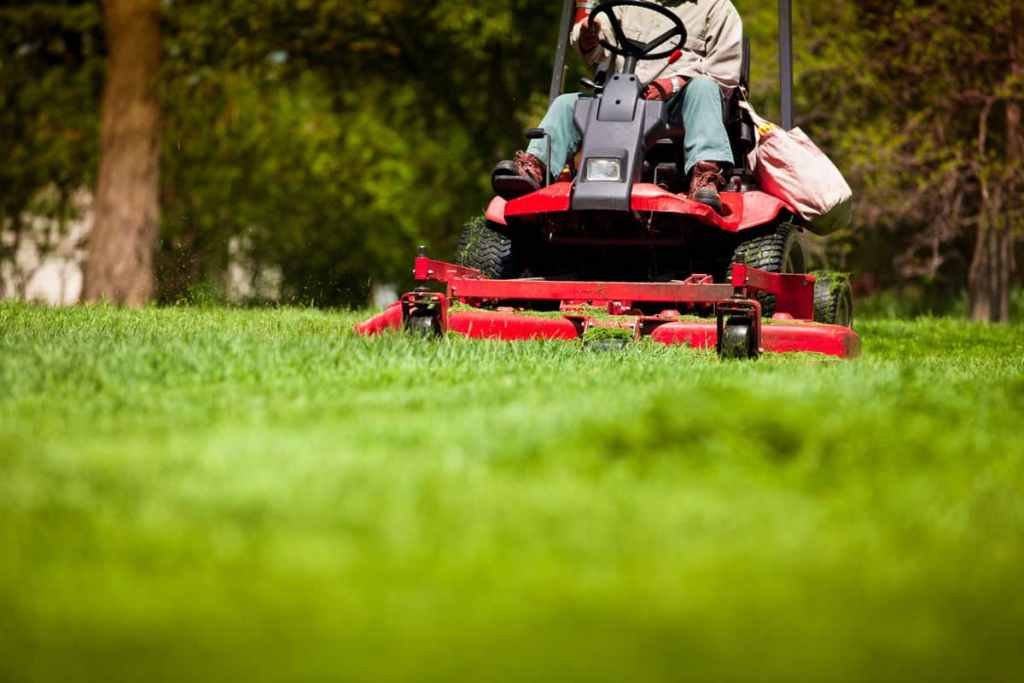 How long a riding lawn mower will last depends on the type of engine used: single cylinder or twin cylinder. Generally, a mower with up to 750 miles logged on it is classified as a high-mileage unit.
You'll have to change the oil at least every 50 hours, and not exceed 3 hours per day more than once a week to prevent the engine from overheating and burning out too soon.
A good choice is Briggs & Stratton Small Engine Motor Oil. Note: The manufacturer's recommendation should be consulted before choosing any riding mower oil.
Riding mowers' fuel efficiency varies largely according to the type of engine and the load they carry. Riding mowers usually consume between 0.4-0.6 gallons of gasoline per hour when carrying light to medium loads, and about 1 gallon when carrying heavy loads.
The typical 4-gallon engine can run for 4-5 hours, ensuring you are able to get the lawn trimmed at a minimum cost. Spark plugs and air and oil filters must be changed regularly in order to ensure fuel efficiency.
Riding Mower Life Expectancy by Brand/Manufacturer
Husqvarna
You've probably heard of Husqvarna's high-quality riding lawn mowers, and this company has been in the industry so long that it offers a range of lawn tractor options for small to large yards.
According to our testers, the service life of Husqvarna machines is influenced by the amount of work they are put through. If the lawnmower is frequently used in a small to medium landscape, it could last as long as 800 hours.
Cub Cadet
Cub Cadet is another riding lawn mower that offers great features and durability. With proper care and maintenance, this brand can cut your lawn for at least 500 to 1000 hours.
John Deere
John Deere's single-cylinder mowers are known for having an average life expectancy of 500 to 1000 hours, making them an excellent choice if you're looking for a long-lasting riding lawn mower.
Additionally, larger lawn mowers with two or more cylinders can last up to 2000 hours of cutting operations, depending on how and where they are used. A John Deere lawn mower will typically last 15 years if properly maintained. You will rarely encounter problems starting a John Deere lawn mower. Hence, it is a top brand.
Craftsman
When considering Craftsman's many products, many factors can affect its service life calculation, like engine type and model.
Briggs and Stratton
No one can ignore Briggs & Stratton Corporation's award-winning garden tools. The 500 hours average life expectancy should suffice if you don't require a huge mower or cutting blades for your lawn.
You can run a Briggs & Stratton lawn mower through routine maintenance so that it can last up to 1000 hours.
When Is A Lawn Mower Worth Fixing?
While some might believe that a mower with used operating hours between 500 and 700 is worn out, this is not always the case in some units. Every so often, you have to fix a few worn-out parts.
It's wise to take advantage of your manufacturer's warranty if it's still available, because if you don't you will be forced to spend money to fix your riding lawn mower.
Is It Worth Buying A Riding Mower With Longevity Considered?
If you're wondering if riding mowers are worth it, then your answer will depend on your personal circumstances and the size of your yard. If you're a retired homeowner with a postage stamp yard, then probably not. You may also be able to fit a walk behind even in a larger yard if you are young and in great shape.
You should consider buying a riding mower if you have a lawn or field that is at least a quarter of an acre in size and you want to decrease your physical effort. The amount of time saved and enjoyment added to a weekly chore make a rider an excellent investment for homeowners.
The type, quality, and deck size of the rider are also important factors to consider. The features will also affect the price and determine whether the rider is 'worth the investment' or not.
When the right one is selected for the right task, riding lawn mowers are efficient, reliable, and fast ways to cut most lawns.
What Are The Most Reliable Riding Lawn Mowers?
The following lawnmowers are the very first place you should look if you want reliability.
Husqvarna Z254F
Husqvarna Z254F is a top-of-the-line zero-turn mower for your personal lawn or lawn care business that is built to last.
Kawasaki FR 691V engine powers the 54-inch mower deck on the Z254F, which is made from 10-gauge steel. Despite the mower's considerable weight (595 pounds), the rear fat tires provide great stability and nimbleness.
Easily the Z254F's most appealing feature is its overall simplicity. What you see is what you get…a rugged trimming machine that could very well outlast you.
This awesome mower is backed by a 3-year warranty from Husqvarna.
The XT1 Enduro Series LT42 lawn tractor is driven by an 18-horsepower Kohler 5400 Series engine, which is one of Cub Cadet's finest mower brands.
A 16-inch turning radius makes the XT1 a highly maneuverable garden tractor, and it comes with LED lighting, a hydrostatic transmission, and soft-touch steering. You can adjust the deck's height from 12 to 42 inches.
Cub Cadet (and parent company MTD) prides itself on reliability, which makes the XT1 one of the best garden tractors ever developed.
On top of that, Cub Cadet offers a 5-year warranty on the chassis and front axle of the XT1.
Riding Mowers Worth Considering
There are many great mowers on the market, but the aforementioned two are two of the best.
You can also get a reliable riding mower by choosing from the following models.
In Conclusion
It's easy to find a riding lawnmower, because they're reliable and last for a long time. Compared to manually powering a mower, these are like a breath of fresh air.
Due to advances over the past few years, your lawn mower will work for five or more years, so proper maintenance can make it last ten years.
The simplest methods of keeping your lawn mower running smoothly are to replace broken parts and clean it up as best you can. All the best
How Often Should You Service Your Riding Lawn Mower?
In order to extend the lifespan of your riding lawn mower and increase efficiency, you should schedule an annual maintenance check and a thorough cleaning of the blades and machinery following each use. Many homeowners don't realize this, but piling dirt on the surface of your property is bad for the lawn mowing machine in the long-run.