Lawn mowers from the Greenworks Tools brand are characterized by their innovative side, in particular by the "self-propelled" function. Its various models offer a wide choice of possibilities, each as varied as the next. The main functions available to most models are mowing, mulching and collection, hence the very large storage bins. The engine of most of the brand's mowers are eco-responsible, silent and above all very powerful! They are mainly powered by lithium-ion batteries with a very long autonomy that can easily maintain more than 500 m². These are made from 100% reusable natural materials without heavy materials and above all without carbon.
1. Greenworks Tools G40LM41K2X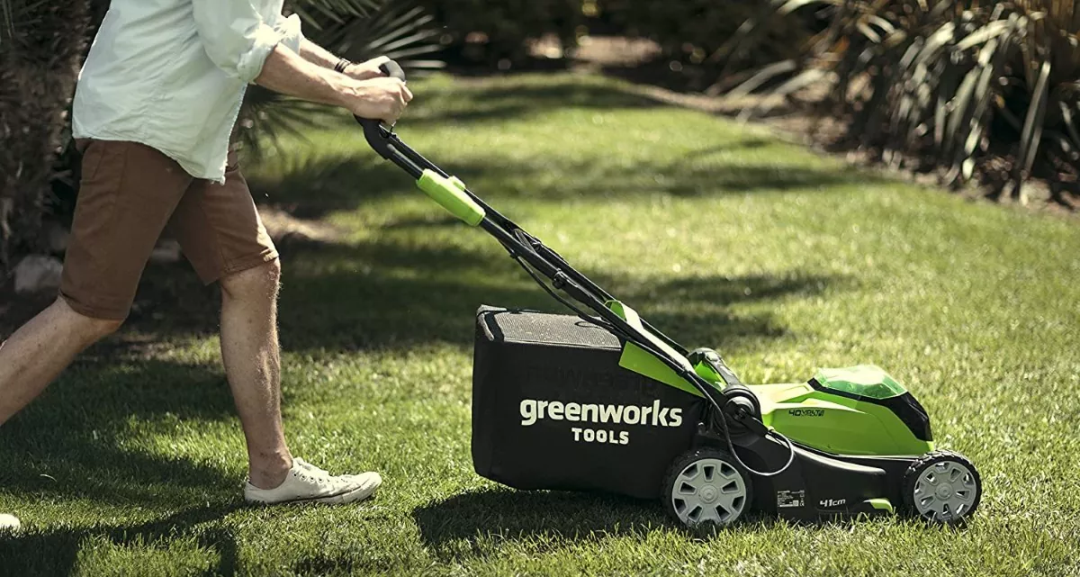 Greenworks Tools G40LM41K2X is a cordless 40V electric lawn mower with two 2Ah batteries and a charger. It is designed in such a way that it is silent, now you can mow your lawn without damaging your buffers or disturbing your neighbors. The device has a central system that offers you the possibility to adjust the mowing height as desired between 25 and 80 mm. The cutting width is 41 cm, perfectly suited for spaces that can easily reach 600 m². The device performs a dual function; mowing and collecting vegetation once cut hence the 40 L storage bag. What most characterizes this model is the compatibility of its batteries with other brand products dedicated to the same sector of activity.
Features
LEDs that indicate the battery level

Steel cutting blade

Dual function: mowing and collection

Feed: Wireless / Battery

Tension: 40 Volt

Weight: 8 Kilograms
| | |
| --- | --- |
| PROS | CONS |
| Has a silent mode that allows you to mow and collect without noise | Unsuitable for strong and long vegetation |
| It is equipped with two batteries with an autonomy of 600 m² | |
| Lightweight and easy to store thanks to its compact and folding appearance | |
2. Greenworks G40LM35K2X Mower
Greenworks G40LM35K2X mower is a cordless device powered mainly by a 40 V Lithium-ion battery, two of which are supplied with a charger. The batteries are versatile, compatible with other devices of the same brand that are part of the same business sector "gardening". This device is characterized by a cutting width of 35 cm and a central adjustment of 5 levels of height 20-70 mm. It has 3 main functions: mowing, collection and mulching which consists of distributing the cut vegetation in equal parts over the surface. The latter is full of nutrient-rich elements, it serves as a natural fertilizer for the soil on which it is deposited. This mower is suitable for small ones that go up to 500 m², if it exceeds there,
Features
It has 3 functions: mowing, collecting, mulching

Versatile battery

40 L collection box

Feed: Wireless / Battery

Tension: 40 Volt

Weight: 15 Kilograms
| | |
| --- | --- |
| PROS | CONS |
| Silent mower | Mower not suitable for very large areas |
| Mowing without leaving traces on the lawn | |
| Easy to store, retractable | |
3. Greenworks Lawn Mower G40LM49DB
The G40LM49DB mower from Greenworks Tools is a cordless device that works with an eco-friendly 40V battery. The latter is made from ecological materials: 100% reusable without heavy materials and without carbon. It is a 3-in-1 device which provides mowing, mulching and collection, hence the large 60 L storage bin. It has a steel blade that is 49 cm wide and 5 adjustable cutting levels 35-85 mm via a centralized system. The mower gives you the possibility of reusing the cut vegetation in the form of fertilizer by covering it evenly over the entire surface. It is characterized by its silent mode, its ability to reach sealed areas and its autonomy which can maintain up to 800 m² of surface.
Features
Central cut adjustment on 5 levels

Eco-friendly versatile battery

60 L collection bag

Feed: Wireless / Battery

ension: 40 Volt

Weight: 22.6 Kilograms
| | |
| --- | --- |
| PROS | CONS |
| Great battery saving that allows to maintain large areas | Battery and charger are not included. |
| It can reach tight areas | The plastic is not very good quality |
| Ergonomic and easy to handle | |
4. Greenwoks self-propelled mower 2502907UC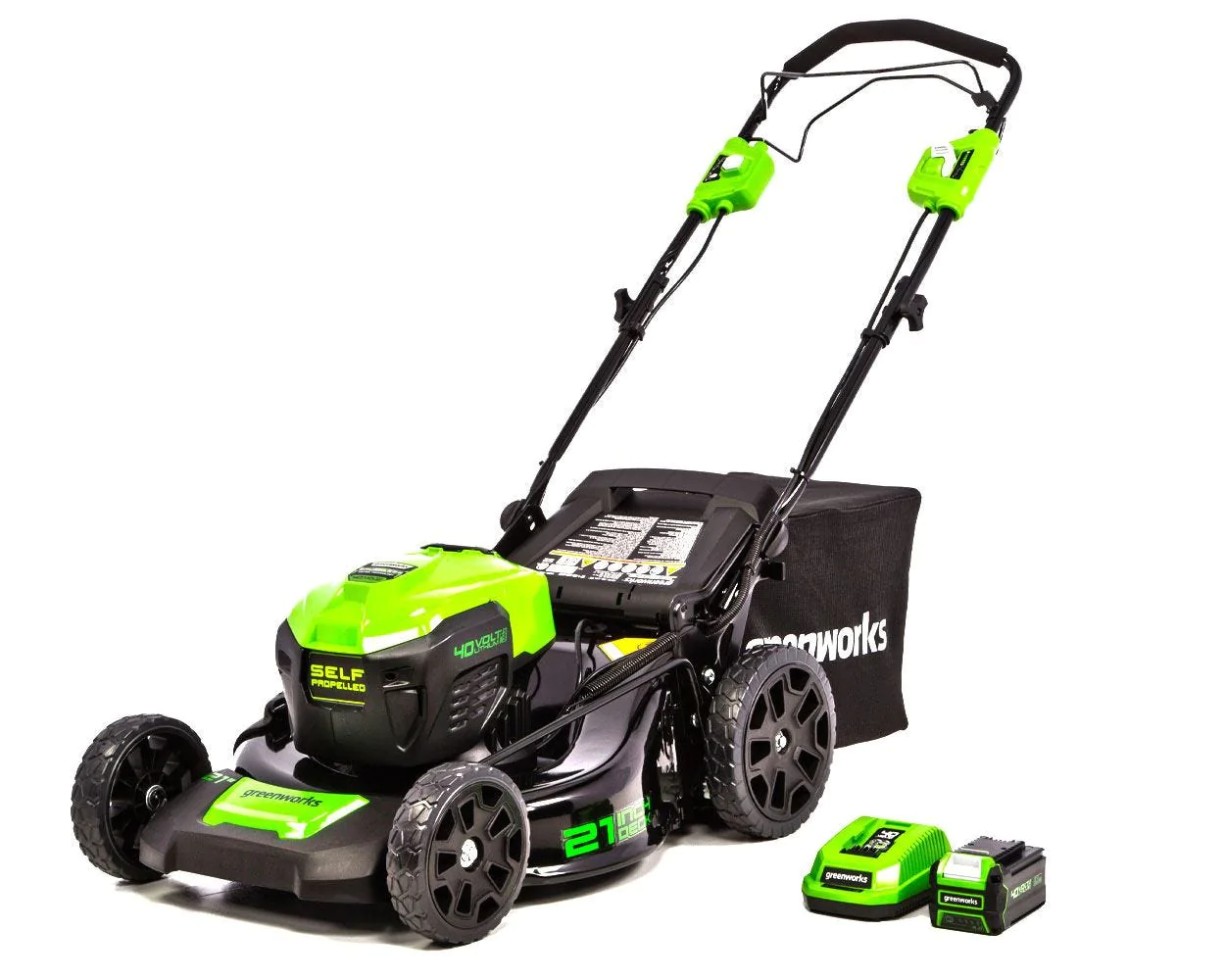 The Greenworks 2502907UC self-propelled mower is a cordless device that is powered by two Lithium-ion batteries with a voltage of 60 Volts. The engine of this device is equipped with "DigiPro" technology; brushless technology offering more autonomy, speed, power and less noise. The device is equipped with a 46 cm wide steel blade followed by 7 levels of cutting height for a cleaner finish. The mower performs 3 functions including mowing, mulching and collection, hence the large 55 L storage bin. This mower is suitable for medium-sized areas that do not have very heavy vegetation.
Features
Motor features DigiPro technology

Central cutting system of 7 levels

Large 55 L collection box

Feed: Wireless / Battery

Tension: 60 Volt

Weight: 36 Kilograms
| | |
| --- | --- |
| PROS | CONS |
| Equipped with DigiPro technology which makes the motor even more efficient | The battery does not come with the set (purchased separately) |
| It is equipped with an engine shock protection | |
| Very large collection box that does not need to be emptied all the time | |
5. Greenworks Tools 2506807
The 2506807 model from Greenworks Tools is a cordless lawn mower that is powered by a Lithium-ion battery. The latter exists in two Voltages to choose according to the surface of the ground, it exists in 60 Volts and 80 Volts. The device is characterized by the self-propelled function which saves the efforts made during the maintenance of the space, nevertheless, a little effort is always required. You can now mow your lawn serenely thanks to the silent mode which reduces the noise of the device to a minimum. The autonomy of the battery lasts up to 800 m² out of self-propelled mode which, on the other hand, consumes a little more energy thus reducing the autonomy of the mower.
Features
Equipped with self-propelled mode

The cutting height is adjustable via a central system

Has a silent mode

Feed: Wireless / Battery

Tension: 60 Volt / 80 Volt

Autonomy: Up to 800 m²
| | |
| --- | --- |
| PROS | CONS |
| Lightweight and very easy to handle | Battery is not included |
| Self-propelled mode saves you the great effort of maintaining your space | It is not suitable for surfaces with high vegetation |
| Silent, this mode reduces the noise emitted by the device | |
The Greenworks brand
The Greenworks brand was created in the USA by the Globe Tools group with the aim of promoting Lithium-ion energy through the marketing of batteries. Three years after the creation of the brand, in 2010, it launched its first range of corded gardening devices, powered mainly by gas. Given all the side effects and dangers that this type of power supply can generate, the brand launched its first production of Lithium-ion technology in 2013. It started with 40 V, then launched into the production of batteries of 80 V to meet the most demanding needs. The second production of these batteries had an 82 Volt variant to meet needs that require more power, especially in the professional environment. A happy medium of 60 V was born in 2016 to satisfy as many people as possible. These batteries are combined with cordless lawn mowers for even greater power and efficiency. Despite the recent appearance of the brand, it quickly made a name for itself in the middle of gardening tools, especially in terms of lawnmowers.
How to choose a Greenworks battery lawn mower?
To choose the best Greenworks battery-powered mower, it is important to observe a few criteria, as when choosing any other garden equipment, whether it is a brushcutter or even a robot mower 2000 m² . Aim for engine power and cutting width. Then, master the settings of the mower while taking into account the opinion of customers. Now is the time to discover them in a much more concrete way.
Engine power and cutting width
The idea of ​​offering you a battery-powered mower certainly comes from desires to be satisfied. For this, you need to opt for a quality device. The power is a characteristic testifying to the efficiency of the device. It differs according to the models. Some devices offer a voltage of 40 Volts, others offer 24 Volts. The higher the tension, the less energy you spend on maintenance. In addition, the cutting width is not to be neglected. You will see mowers with 33cm, 35cm, 41cm, etc. If the value of the blade is high, the work is done faster and without a hitch. Take all these aspects into consideration before purchasing.
Greenworks battery lawn mower settings and customer reviews
If you want to benefit from the advantages of a mower, opt for one that is multifunctional. The more settings the device has, the more it reassures you about its practicality. Settings vary from model to model. Some tools will offer you adjustments in 5 positions, and others in 3 positions. You need to check this aspect during the purchase. Also consider customer reviews. These are those who have experienced the device. Ask them questions or go to sites dedicated to the sale of the instrument. User feedback will be of great help to you when choosing your mower.
FAQ: customer questions
What is the Greenworks battery charging time?
The charging time depends on the voltage of the Lithium-ion battery; 40V charges twice as fast as 80V. The average charge time for batteries in the Greenworks range is 1 hour to reach 100% (first use). Then this charging time stabilizes at around 35 to 45 minutes for a full charge. It is advisable to bring a second battery so that you no longer have to wait between each maintenance.
What is meant by the versatility of the Greenworks battery?
Lithium-ion batteries produced by the Greenworks brand are versatile; compatible with other brand tools. They are therefore not uni-functional and can very well supply other gardening tools of the same brand. However, care must be taken to ensure that the voltage of the battery corresponds to that of the alternative device.
Are Greenworks lawn mowers a good ecological solution?
The Greenworks brand started its production of lawn mowers with models that are essentially powered by gas. And it can only be polluting, whether it's air pollution by its toxic emissions, or noise pollution by the loud noises it produces. This is where the brand turned to much more ecological solutions by using Lithium-ion technology. These batteries are not only eco-responsible in their operation, they are also produced using natural materials, reusable without carbon or heavy materials.
Final Verdict
It was not an easy task to find the best Greenworks mowers . Because Greenworks manufactures hundreds of lawn mowers each year, the market is saturated.
We know you want the best Greenworks mower on the market. We've bought the best-received and best-received Greenworks lawn mowers and put them to the test. We finally found our top rated Greenworks lawn mowers after all of this.