PROS
CONS

They are reducing mowing time by more than half.
Simple to operate
Three ways adjustable ergo provides good grip, thus improving the stability of the driving.
Mowing at a steady pace
The powerful engine
Lightweight for ease of use

Not the cheapest mower for its category
Do you have a beautiful but big garden, and you feel like you want a lawnmower that will get the work done? You are in the right place for that. Let's have it this way; you have made the right choice choosing the 27-cub cadet SC 700E lawnmower. This machine has enough power to get the job done; thanks to the technicians that work in this company, they have integrated technology and power into the machine. Buying the best lawn mower can be a significant challenge, especially when you are not familiar with the terms used to describe the machine, its power, and generally its parts. We got you covered; you will get this machine review that will range from its features, the engine, and the accessories that come with the machine and why you should consider buying the machine.
The 27 Cub Cadet's SC 700E lawn mower has 4-Wheel Drive that gives you unprecedented control as the mower propels itself. It is a mower with selectable variable speed 4-wheel drive, the operator may pick between front-wheel, rear-wheel, and 4-wheel drive. Users may effectively negotiate any terrain on any lawn with ease now that all three choices are accessible on-demand. This one-of-a-kind technology enables the operator to select the appropriate drive and speed to meet the job's requirements. Hands-free operation engages both the FWD and RWD levers to put the 4WD system into cruise control. Great traction tire tread with a knobby design and a taller sidewall. Deck Protection Front bumper made of tubular steel.
Users may effectively negotiate any terrain on any lawn with ease now that all three choices are accessible on-demand. This one-of-a-kind technology enables the operator to select the appropriate drive and speed to meet the job's requirements. SureStart Guarantee backs the push-button electric start 196cc Cub Cadet performance-tuned OHV engine with thermal auto choke. Theengine will quickly start or resume with the touch of a button.
Features Of Cub Cadet Sc 700E Lawn Mower
196cc Cub Cadet OHV engine
Selectable Front-Wheel, Rear-Wheel, and All Wheel Drive
There are six distinct heights cutting Height Ranging at 1.25″ – 3.75″
Lifting levers on two wheels
Deck Height Adjustment
Handle Adjustable Ergo
4WD with Max Control dual-levers allows the user to choose the best drive choice for their machine
The single-handed operation entails engaging both the FWD and RWD levers to lock the 4WD into cruise control.
Superior traction is provided by aggressive tire tread with a knobby design and a taller sidewall.
Deck Protection aided by the tubular steel front bumper
Smart Jet high-pressure deck cleaning system
3-in-1 bagging, side discharge, and mulching machine
Engine
This machine is powered by a cub cadet engine with an engine displacement of 196cc. This engine is one of the best and is manufactured by the cub cadet, an industrial company found in the United States. This is an overhead engine, thus clearly showing that the machine is durable and works for some hours without failure. The timing chain of an overhead engine is easy to replace, thus an added advantage when you purchase one.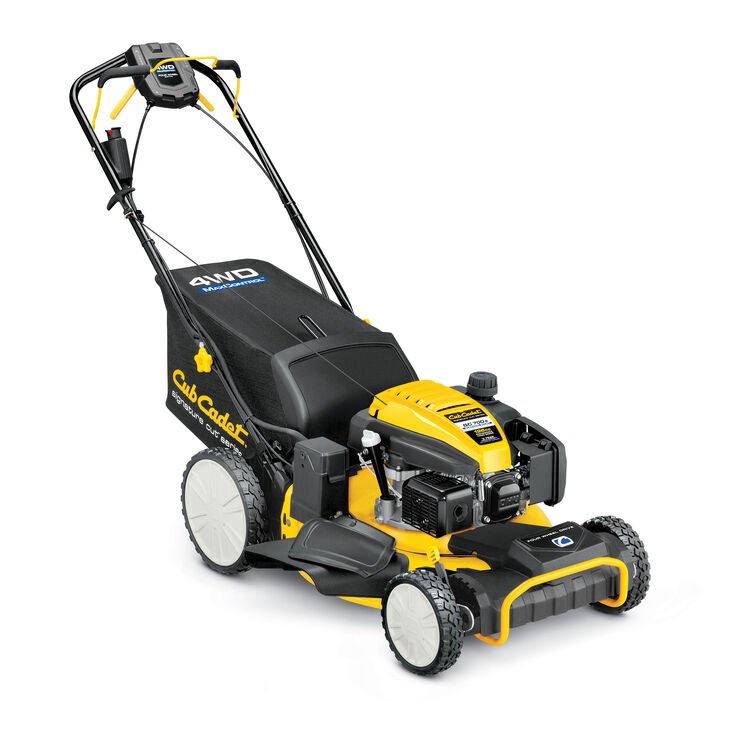 This kind of engine permits smooth intake and mixture of fuel, quicker and complete exhaustion. The fuel tank capacity is 1.23 liters that mean that you can use this machine for more extended periods. Finally, this machine can be electrically started by a push-button with an auto choke and surely Guarantee a Sure start. The drive system of this mower is a selectable FWD, AWD, and RWD. Thus, it is driven in all directions.
Riding comfort
The Cub Cadet SC 700E lawnmower has both rear and front drive; the user can engage the wheels that they prefer, thus making it easier to mow in a straight line and curved places as the mower now experience excellent traction. Furthermore, speed drive converts the Cub Cadet SC 700E lawnmower into a self-propelled machine, which is enabled by the mower both wheels. The lawnmower wheels height is adjusted to get the best cut depending on the Height of the grass you want to mow, allowing you to mow your grass at three different heights. It reduces the energy that you may exert in the process of supporting the machine.
The machine's handlebar has three changeable settings, can also be adjusted to suit your Height. With these adjustable settings, you may tune the mower to your chosen comfort level and lengthen your mowing session. The handlebar is so soft that you can change its position by merely touching it, providing grip while enhancing traction for effortless lawnmower control. Any changes made to this mower are typically easy and smooth, thus saving you time and energy.
Lawnmower control and performance
One of the areas that the manufacturer of this machine had done a lot is with the control activities. The hands of 27 cub cadet SC 700E lawn mower are so advanced in such a way that it provides the user with a comfortable grip that has a three-way adjustable ergo. The three-way adjustable ergo provides all the comfort you need and versatility for all outdoor works, lawn mowing included. Another added advantage to this lawnmower control is the ability to self-drive; little or no energy is needed to drive this machine, thus improving its performance.
Cutting quality
For best cutting quality, this mower comes with the best drive system, with a cutting deck of 21″ that has been proved to last longer. It is one of the decks created in such a way that a lot of hair flows into the deck. One advantage of this feature id the grass that has been cut is blown off completely, creating a cleaner cut as the blades receive a better cutting zone. This causes an excellent cutting zone for the blades, thus producing a perfect cut.
The mower also has three cutting modes: three in one bag, mulch, and a side discharge. This lawnmower comes with a bagger that will collect all the grass and trash that the machine has cut and produce the cleanest cut. It makes it easier to dispose of the grass cuttings; using a lawnmower bag attachment, you may avoid a lengthy clean-up after you mow.
Durability
The machine's longevity often begins with the machine's sturdy engine, which has Auto-choke Sure Start technology, which allows the mower to start and work smoothly. The expected life of most American manufactured mowers is about ten years. This means this mower will be good for ten years, and with proper care and maintenance, this will be extended. The Cub Cadet SC 700E lawnmower also has a large deck made of steel, making it corrosion resistant. It also has a front metal pamper to help protect the engine and the deck during the self-driven mode. In addition to this, the machine has a three-year warranty, which means you won't worry about the machine's functionality within this period.
Accessories
The Cub cadet SC 700E lawnmower has additional features that we are used to seeing in any other lawnmower. It incorporates a patented smart jet high-pressure washing deck for cleaning the mower's undercarriage securely and efficiently. After you've finished mowing, connect a garden hose to the wash port and wash your mower.
Like other Cub Cadet mowers that use both pull to start and electric push to start the engine, the SC 700E lawnmower has a rechargeable battery starter that allows you to start the grass cutting process with a single push power button.
We all want our machines to last longer once we purchase them. There are numerous pieces of equipment that you may acquire as an addition to guarantee that the machine lasts as long as possible. You can purchase a mowers cover; they cost a few dollars. This will play a role in eliminating dust and humidity that usually destroys the machine.
Warranty
A three-year warranty covers the lawnmower. If a problem arises during the three-year warranty period, you may always contact the manufacturer. Aside from the fantastic advantages of the lawnmower, purchasing the manufacturer's lawn ensures you of customer service. In addition, the mower is made of high-quality materials to ensure its durability.
Conclusion
The Cub Cadet SC 700E gas lawn mower has the best design, and its functionality is incredible. It maneuvers easily, thus allowing you to easily fit it in locations you may not have been able to reach initially. The self-drive feature that is aided by the all-wheel-drive provides an incredible mowing experience. The electric push start button and the technology are integrated to ensure that this mower is unique and lasts longer. It is one of the best lawn mowers on the market you can go for and an excellent choice if you have a well-kept lawn.