It is believed that good food is the foundation of a happy life. So, to live happily ever after we need a well-equipped, furnished kitchen in our home. Nowadays there are lots of kitchen appliances and tools are available in the market. But we need to figure out how they can be set up in our kitchen space in a friendly manner. To set up a modern kitchen, we should know about the basics of the latest kitchen ideas.
The key feature of the modern kitchen is functionality and its sleek design. It should be clean and spacious, preferably an open counter type. You can choose any color scheme like black and white, monochrome, or any vibrant color combination. Our kitchen may be square or rectangular in shape. Or you may have an irregular space to transform it into the kitchen. The goal is to arrange the kitchen tools, appliances, and cabinets in such a way that justify and functionally satisfy the concern kitchen space. People prefer a modular kitchen for huge storage capacity. It makes your kitchen clean, organized, and no doubt look stunning. The materials of cabinet and counter, color scheme, electrical fittings, types of equipment, curtain, cookware to cutleries, every item have their contribution to making your kitchen modern and smart. Let's discuss some luxurious examples of modern kitchen designs so that you can set up your cookhouse.
1. Black and white kitchen
The Black and white scheme is an all-time classic combination. Large glossy marble finish counter looks stunning with the black backdrop. The designer wisely chose a zed black stone wall with matching covered and see-through cabinets. This high-end kitchen is enough spacious and well ventilated. Black stools with the white background look trendy. There are sprinklers to avoid mishaps. The owner placed a sofa with throw pillows, and a center table to make a cozy corner. The wooden center table acts as a pop of elements. Sleek light fittings, flower vas, wall hanging add life to this black and white kitchen.
2. Grey theme kitchen
Grey is always appreciable whether it is on a dull tone or high gloss finish. Light grey with a white ceiling allows much light to the kitchen. White-grey zigzag tiles break the monotonous pattern. Bright yellow light shed brings much-needed contrast in the kitchen. The decorative central counter with wooden ultra-modern stools enhances the aesthetic value. A wooden floor looks trendy with floor mat which brings a sense of comfort. The designer hid the chimney along with cabinets. Pale shaded window curtain adds some traditional touch to the modernly furnished kitchen.
3. Earthy kitchen look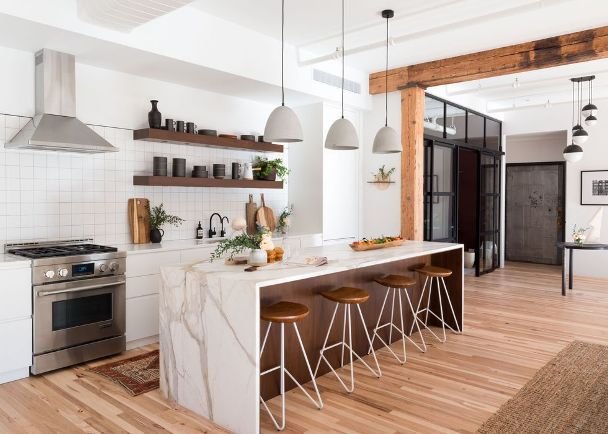 Less is more. This is an example of a simplistic modern kitchen. The designer maintained a monochromatic color theme. White, brown, and grey combination brings the earthy looks on the kitchen. Marble top central counter can be used for preparation and servings. Wrought iron stools break the symmetric pattern. Bare wood beam and column differentiates the open kitchen from the main house. Open shelves allow clear display. Elliptical industrial light shade counters the straight lines. Raw rug carpet blends properly with white and wooden texture.
4. Glossy effect on the kitchen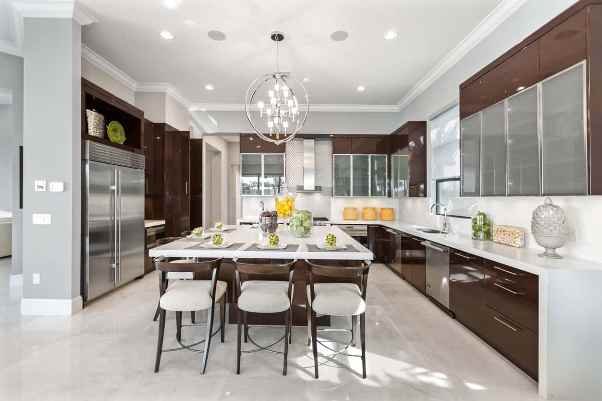 You can add glossy effects to your modern kitchen. And what can be the best material for that other than glass. Glass looks always classy and can deliver eye-catching designs. The designer chose glass and high polished laminates for a large set of cabinets. Large steel finish refrigerator, chimney, cabinet handles even glass frames are adding gloss to space. The kitchen space is quite spacious. The square dining table can accommodate three to five people at a time. Stunning chandelier over the dining table makes your family time memorable.
5. White palate with window treatment
The kitchen is completely rendered with the white palate. It looks like a combination of modern and old architecture. The cabinets, chimney designs are inherited from French architectural design, while the stools are carrying the latest design pattern. Decorated sink fittings and fruits holder gives the vibes of the old days. A wooden floor is on-demand all-time. But all the attraction goes to window valance. It's not compulsory but if you want to soften the kitchen look, or filter the natural light, you can put a decorative valance on top of the window.
6. Heavy-duty kitchen
When you need to feed lots of people every day, you need a quite large space to store and multiple hobs. The kitchen is furnished with high-tech electrical appliances. The designer chose high shine stainless steel for countertops. It is good for maintenance and user friendly. Black stools complete the monochromatic palette of a white cabinet, steel and brown wooden floor. Steel and woods are always a good match. The island is made in such a way that it can be used in multiple ways like preparation, servings, and storages.
7. Bar counter theme kitchen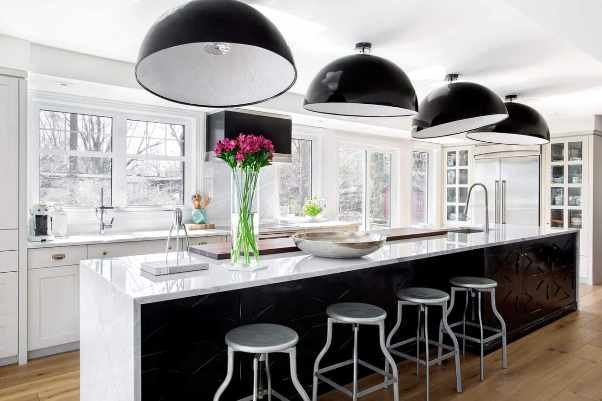 This bar counter-like kitchen counter looks so stylish and up-to-date. You can enjoy your meal with your family and friends. Even just set the buffet on there if you host a party at your place. Wall-wide clear glass paneled window connects you to nature. If your kitchen is on the ground floor just make access to the garden. Bowl shape oversized light fittings and irregularly shaped stools break the linear geometry. Place some potted plants and flower vas which not only provide freshness but some color to this monochromatic kitchen.
8. Mix & match texture
There is no such rule that you can choose only one theme for your kitchen. To set up a modern kitchen you can go for a mix & match concept. The large kitchen looks so luxurious and gorgeous with high shine stainless steel cabinets, glossy countertop. The designer adds a golden touch in the kitchen by hanging an irregular chandelier in the middle. A clear glass window allows natural light and ventilation. The large backsplashes are covered with heavily veined marbles that look absolutely awestruck.
9. Decorative backdrop
You can keep your kitchen traditional despite having a modern setup. Colored cabinets are on high-demand. Dark and cool shade blue is perfect for your not so spacious kitchen; blue helps a space to appear bigger and brighter. Blue and white is a sober, cool and traditional combination. The backsplash of the kitchen is decorated with the Mediterranean mosaic style. You can also call them Grandola tile. A white countertop with brass hardware adds the vintage vibe to the kitchen. Unpolished bare wooden furniture enhances the aesthetic value.
10. Down to earth kitchen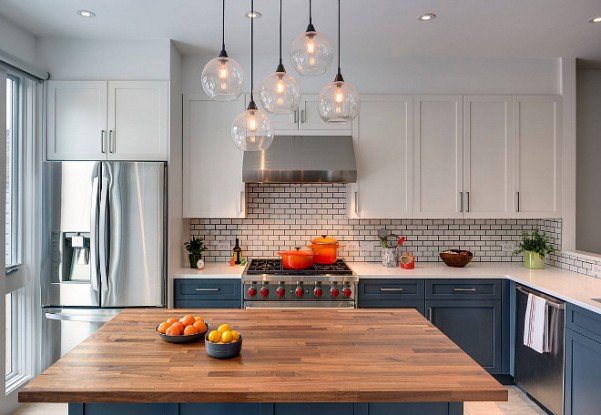 Simple designed white and slate color painted cabinets look decent but functional. The natural yet smooth wooden island is also useful for preparations and servings. High-tech latest appliances assure you all the facilities to cook delicious proper diet meals. Full-height clear glass window does not just allow light and ventilation; it also connects you to nature. The backsplash with subway tiles gives vintage vibes. Light fittings also bring the memory of old oil lamp shade. Attract your guest just adding pops of color through cookware, like red or vibrant orange.
Now you can have a basics idea of a modern kitchen following the above discussions. The kitchen of your home is the place where you spent most of your time of the day and it's not possible to alter it every day. So, before starting just get some proper idea and turn your dinner into a time to remember.