Gone are those days when there used to be a big fat family with substantial family members. There used to be a lot of fun, frolic and merriment. A big family also meant lots of cooking for all the members. But as days are passing, the joint families are getting neutral, and the kitchens also got smaller. Also, the big old houses are being adopted by the promoters and developers, and they are being transformed into apartments and real estate buildings. So the big family kitchen has turned into a small kitchen cum dining in a 3BHK flat.
A small family who lives in a 3bhk apartment can easily adjust in a small kitchen. But sometimes it might get congested and confusing. So, we present before you a series of ideas on how you can decorate your small kitchen beautifully. For more useful and unique home decor ideas, check out HNGGuide.
1. The all-wooden Surface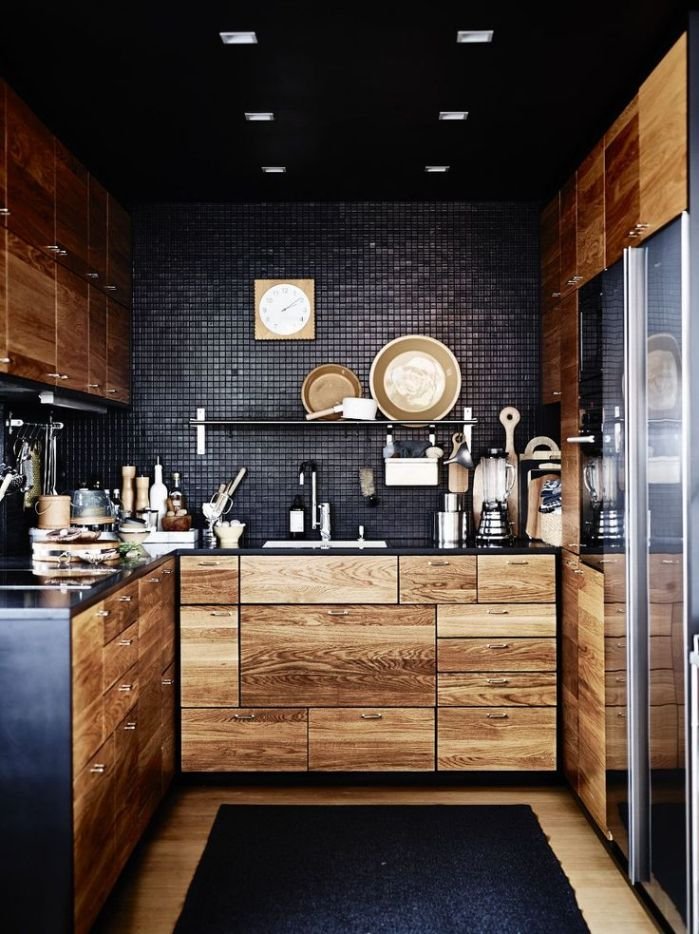 Most of the apartment kitchen nowadays are rectangular because of space adjustment. You can decorate the cabinets into the wooden cover, and the doors can be a slider. The walls, ceilings and the surfaces can be decorated in black marbles and tiles so that any minute thing can be seen.
2. Add a Breakfast Table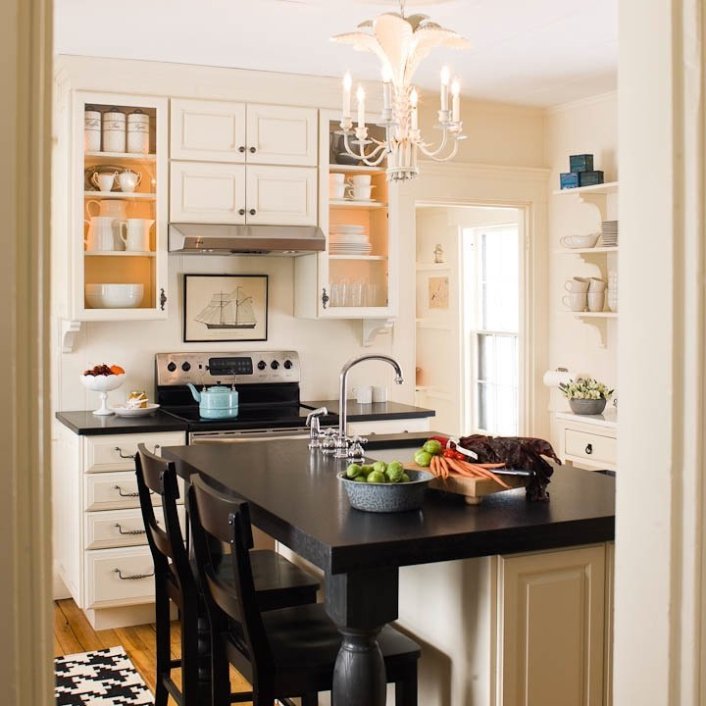 3. The Classic Tile Looks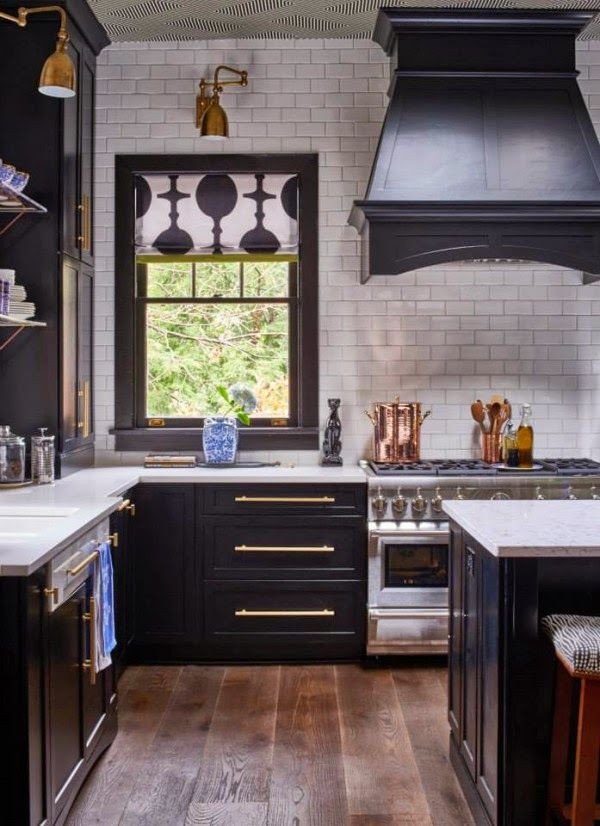 Like most kitchen in the earlier times, you can also add a simple touch to your kitchen. You can keep your kitchen in simple black and white. You can add white tiles to the wall so that the oil and spices get off very quickly. The cupboards and the drawers knobs can be of brass. The chimney can be black, and below the fireplace, you can place the oven.
4. The Strategically Organized
Without even having a proper cupboard for your utensils and jars, you can strategically organize your kitchen. You can place your tools in the lower cabinets, and there can be a tall and sleek cupboard where you can put all your jars, and in one corner at the window, you can also grow plants. There can be a folding table at one corner for those who lack dining space. The colour can be kept light in either white or grey.
5. The Cosy Kitchen Place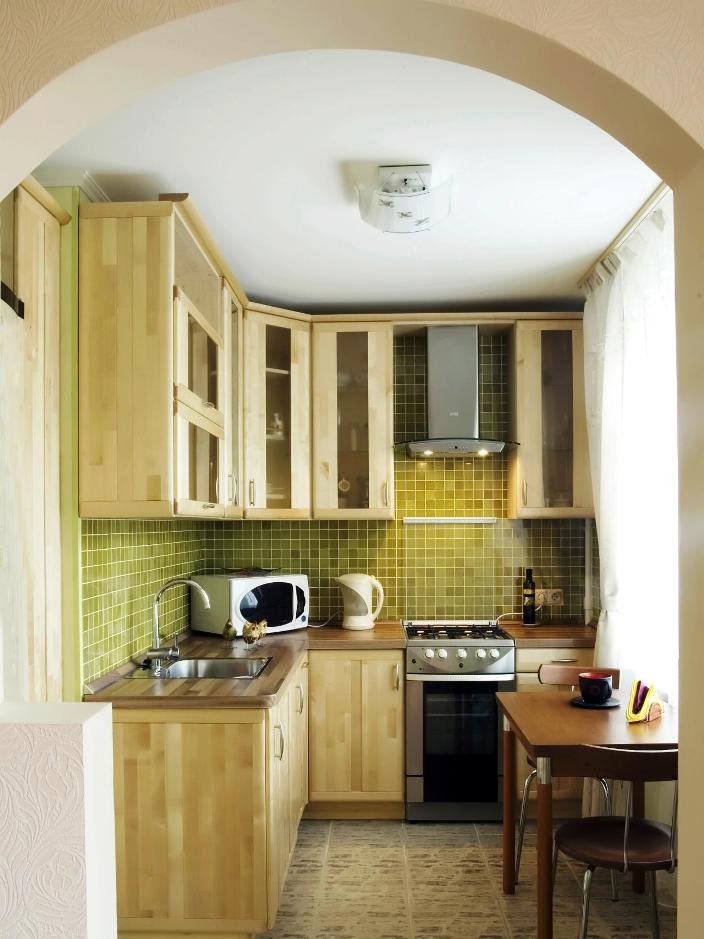 For a family of one or two members, this kitchen is an ideal place. Into this small kitchen, you can wisely add small-sized cupboards for placing the jars. Precisely at the bottom also you can add the cabinets. In one corner, you can add a small table. To add a raw touch, you can keep the cupboards in a wooden colour.
6. The English Royal Touch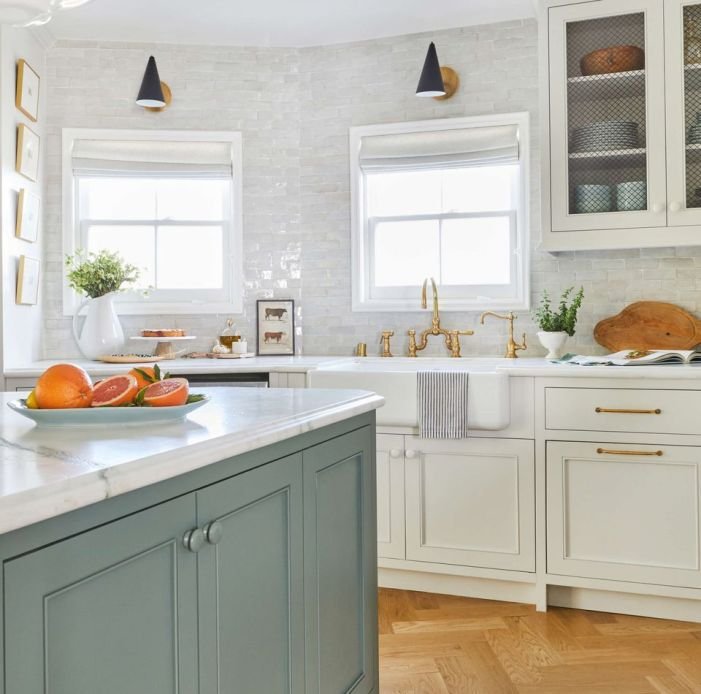 Like the old British royal households, you can decorate your small kitchen into pure white. Starting from the ceilings, the tiles and the cupboards, you can place everything in pure white. The knobs and the taps can be of brass. The colour combination of brass and white looks perfect. White colour in the kitchen makes it look accurate and unique. You can also decorate the walls into pictures with the white or golden frame to go with the uniformity. If you plan to keep a space for the windows, then you can design all your wardrobes at the bottom.
7. The Small But Elite Style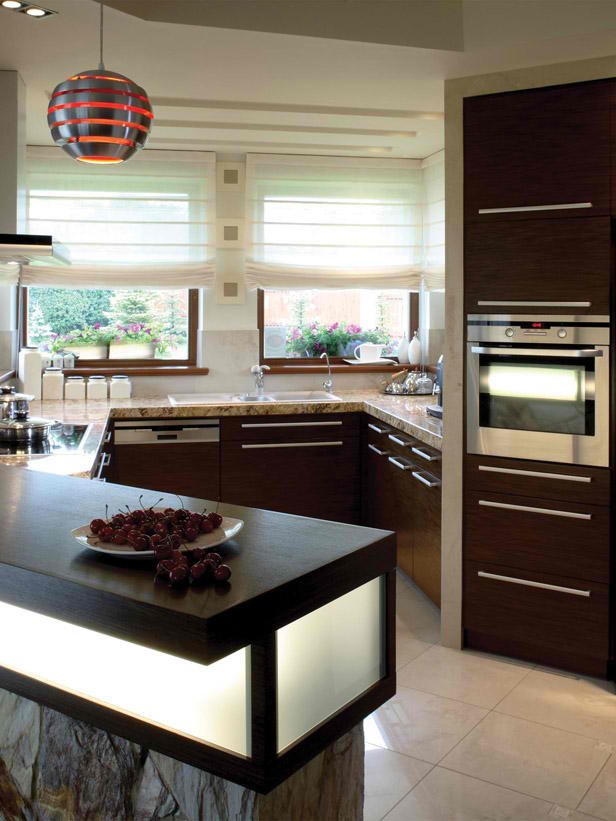 If you want to decorate your kitchen in an elite way possible like the rest of your room, then you can go with dark colours. You can combine your kitchen in a combination of dark and light brightness. You can pair the cream colour with dark brown. Accordingly, you can plan your ceilings, floors and other decorative items for the kitchen. You can design your kitchen into a pentagon shape. This will give it a different look. If you are planning two windows, then prepare all the cupboards at the bottom. If required, you can make a separate big wardrobe at the side. You can also plan a bar type counter on one side which would stand on a marble stand, and there will be lights on the side. Place a decorative hanging light of cream and brown colour to finish the look. The ceilings and floor tiles can also be light brown. IF desired, you can also plant flower pots from outside your window. This will help keep your kitchen fresh.
8. The Elegant Bar Style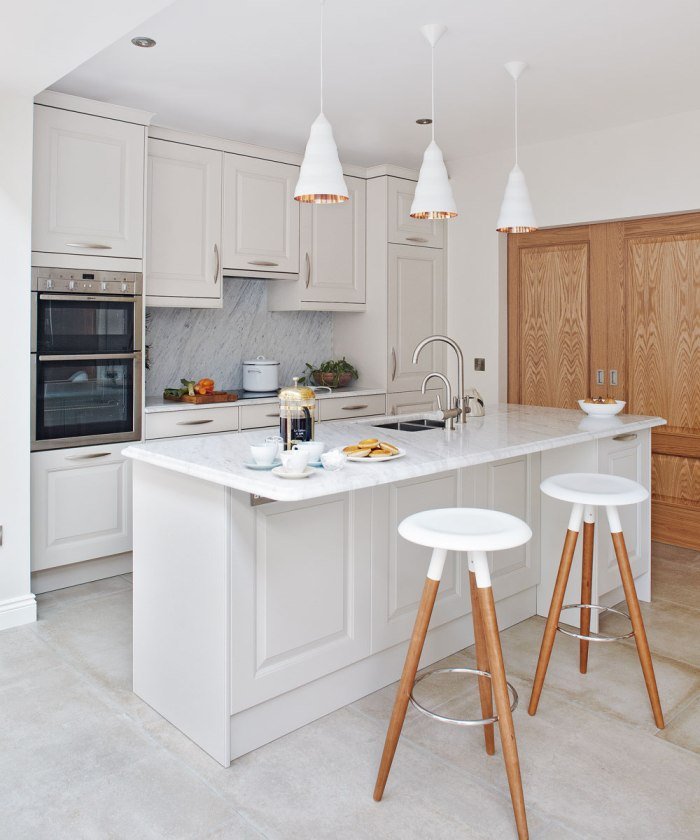 If you are someone who loves to invite friends and loves to have a house party, then you must make sure that your kitchen looks fantastic. Apart from your living room, the kitchen is also one place that defines your taste and nature. Also, having friends means having lots of food and drinks. Again, the kitchen comes into context. But you also want your kitchen to have a decent look. So, here is the solution. Just plainly and straightforwardly, paint your kitchen white including the ceiling, floors and the cupboards—hand three decorative white lights from the limit for the uniformity. Place a chopping cum dinner table in the centre. Then place two funky tools on one side. This way, your guests can sit, and chit chat with you while you cook delicacies for them from the other side. Makes so easy, right?
9. The all Typical Rectangular Kitchen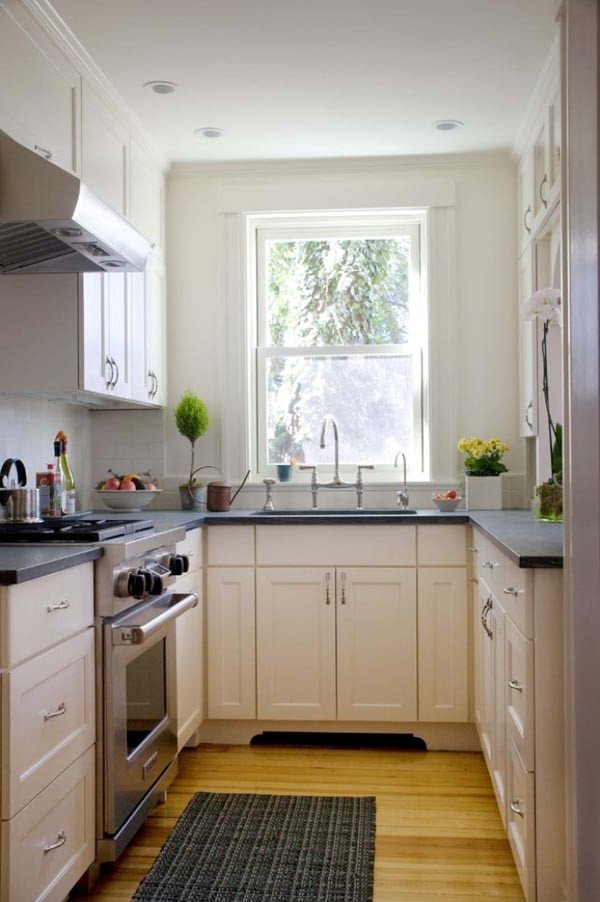 10. The semi-big Kitchen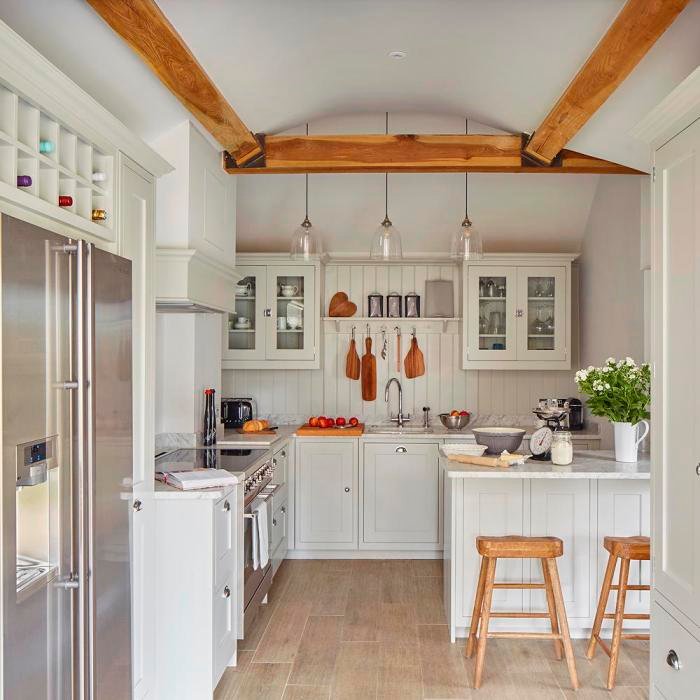 If you have a kitchen which is neither too small nor too big then you will have more liberty to decorate it. Make a decorative wooden trim for the ceiling—plan cupboards of different sizes for different sides. You can make two small-sized cupboards on two sides for the glassed and tea sets. In the middle, you can have hangers for hanging the spoons and other useful things. The lower portion can have bigger cupboards for the bigger utensils and jars. On the side of the wooden rim below the ceiling, you can add decorative lights. These light are the main attraction of any kitchen. Then you can have a big refrigerator on one side. Here also, you can paint the entire kitchen in white and for small kitchen talks, you can have two tools placed on one side.
Having a small apartment and a comparatively lower kitchen doesn't always mean that you cannot decorate your kitchen and cannot work comfortably. In today's time, everything is possible. All you need is to plan things wisely, and you can also decorate your little kitchen into the way you always dream of.