Well, no house is complete without a kitchen, because not just we only love food, but it is a basic necessity. All of us try to manage a comfortable and well-equipped kitchen arrangement for preferable services. When it comes to setting up a farmhouse kitchen lot of thoughts pop up on our head. Before start-up, we should know about the basics of firm house kitchen concepts.
A Country style kitchen is generally an open type kitchen with enough space to serve a large number of people. The idea of this kitchen is to keep the space down to earth. The natural color and materials like wood, metal, white paint are normally used. One good advantage of this type of kitchen is you don't need to buy all new stuff. You can use any old furniture or even antique pieces to decorate your kitchen. Hardwood furniture is preferable for tables and chairs. Country style kitchen sink takes extra credit for its special feature of the wide and deep basin. A down-home theme kitchen demands traditional glass mason jars for storage, the cookware's with wooden handles, gingham style fabrics, etc. to achieve a classic look. Let's discuss some extraordinary examples of country style kitchen design so that you can set up your cookhouse.
1. Exposed stone facade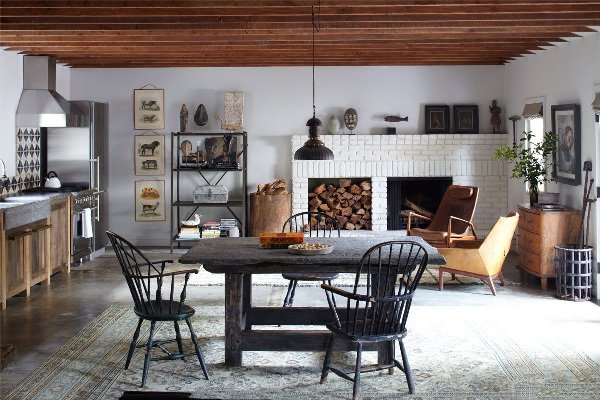 A stone wall is always on-trend and matches every design concept. The designer used a rough textured stone with original color rather than the polished one. Exposed wood beam and exposed stole masonry wall make a perfect farmhouse kitchen with their earthy natural color. Wooden central counter with small round stools looks so spacious and functional. Choice of copper utensils, vintage look refrigerator, and white subway tiles add aesthetic values. The open shelve helps to keep the kitchen organized. This furnished kitchen looks spacious to serve full family and friends of yours.
2. Walnut kitchen theme
Dark wooden furniture and wooden floorings are a trend in interior design. They always give a classic look to your space anytime. The kitchen is furnished with wooden open shelves and wall panels. The customized central wooden table makes space for preparation as well as servings. The wooden chimney is a unique feature for this specially designed kitchen. All wooden surfaces are covered with a couple of lacquer coats to give a polish texture. But one thing you need to consider that, woods are a little sophisticated to maintain. They are also flammable, so resistance measures should be taken accordingly.
3. Mason jar display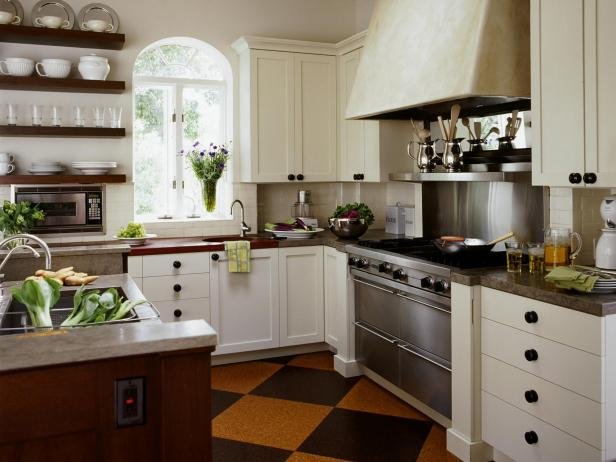 This is an example of a farmhouse kitchen with a blend of old and modern look. The wooden counter is used for both servings and storage having multiple chests with stainless steel handles. A set of traditional glass mason jars took all the attention at this kitchen. The oversized clear glass jar reminds us of the retro country look. The use of wooden lintel, rustic finish of table and chairs gave the space a vintage look. A large ceramic sink gives a much-needed contrast. And we can't ignore the chalkboard on the sidewall which is functional to write down recipes and notes.
4. Sustainable kitchen
In today's scenario, sustainable design is what we all need. This farmhouse kitchen looks so authentic with vintage earthen pot, rustic wood counter, and stone made sink. The antique candle chandelier instead of the modern one, earthen wall hangings enhance the countryside ambiance. The old model of a gas oven, toaster, and brass made pillar cock seems so thoughtfully chosen. The potted plant absorbs smells, provides fresh air, and essential herbs for your healthy dishes. And lastly, the wooden stool with cotton fiber strap justifies the whole concept of a farmhouse kitchen. All the products, used here, is eco-friendly.
5. Rustic country style kitchen
Rustic wooden table, exposed wooden beam with modern pendant light is a fusion of modern and old design ideas. Open shelves and multiple drawers provide an ample amount of storage space. Though the customized chimney is a unique feature, the fireplace took all the attentions. Stone finishes an English fireplace with storage space not only enhances the aesthetic value of the kitchen but also ensures the warmth that you need in the really cold season.  Ceramic showpieces, traditional jars all are chosen carefully. And the classic chess floor ensures the full marks.
6. Contemporary country style kitchen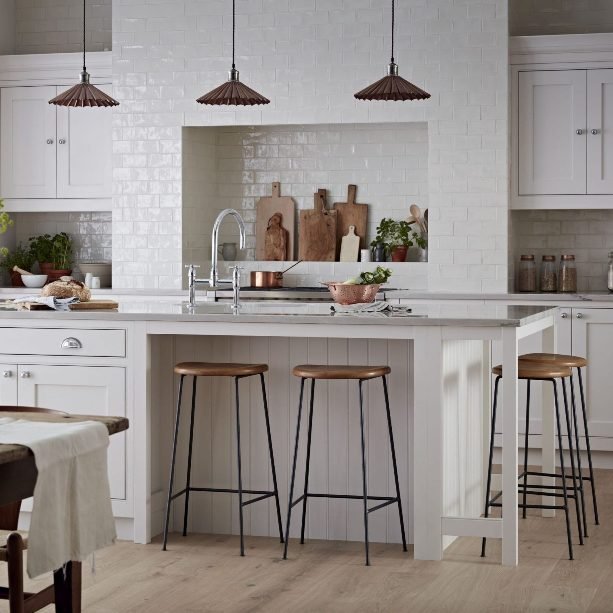 The elegant old fashioned wooden painted cabinets with high-tech kitchen appliances make a contemporary kitchen look. The designer maintained the concept of a country kitchen with large marble finished island table and comfortable cozy chairs. Glass window allows sufficient light. Vintage pendant light shades extra charms on the design. Wrought iron fittings are used for kitchen fittings. Modern glass condiment sets, bookshelves, photo frame will make you feel comfortable. The small potted plant allows freshness to your kitchen. The sandstone finish floor with matching wall paint complements the contemporary country style kitchen.
7. White theme country style kitchen
country style kitchen does not need to be always having a vintage look, it can be a modern kitchen unit. If you want to set up a classic example, then white is always the right choice for you.    Shaker cabinets, light wooden furniture, old lamp shade like light sets are a perfect combination. The large continuous clear glass window allows sufficient light and ventilation also make you feel close to nature. Black stone finish island adds the right contrast with the white background. Various metal jars are used for storage as usual. The use of a watering can as a flower vase is unique.
8. Wooden beam and roof
Handcrafted wooden ceiling with exposed beam always attracts architects and interior designers. They make an extreme effort to design such detail arrangements. Each and every corner of this kitchen is precious. Wooden Island with marble top finish with leather coated wrought iron chairs sets an extraordinary rich look. Large sets of cabinets allow you to store all your rations and crockery sets for a large number of guests. This country kitchen steals the guest's attention by its special flooring matched with the ceiling.
9. Classy modern country kitchen
Warm wood multipurpose counter and stunning pendant light overhead can let you cherish the dinner with family and friends. Bare wood beam, column, metal chimney makes an authentic farmhouse kitchen. Wall paintings, iron racks, potted plants make the space cozy and familiar. To counter this organized, neat set up, the designer approaches the old repaired chairs. The antique wall clock takes special credits. The wooden floor also looks attractive. While you are using woods, take proper measures for safety, as they are highly flammable.
10. White Brown combo country kitchen
We can call it an wood kitchen theme. From counter to the cabinets, shelves to the chair, all the furniture is made from light color wooden planks. They used matching wooden knobs for cabinets and chests instead of metal ones. The central large size counter serves the purpose of both preparation and dinner. It can accommodate a large number of guests. The industrial lampshades from burn beams look so interesting. The stunning black checker background of open shelves turns your farmhouse kitchen a bit quirky.
Now we have an overall idea of a country kitchen following the above discussions. The kitchen is a long term set up of our home, and we can't alter it every day. So, before starting just get some proper idea and turn your dinner into a time to remember.