The current trend in grass mowing is mulching rather than collecting. Working without a collection bag saves time and money, as mulch is a continuous and natural fertilizer. In addition, the sustainable nutrient layer protects the lawn from drying out and the effects of driving rain.
When looking for a good tool to take care of your garden, you need to carefully evaluate the specific characteristics of the best mulching mowers.
What is the mulching mower?
Mulching mowers, or simply non-collection mowers, work in a similar way to normal lawn mowers, but with one important difference: these mowers are without a collection bag and have special blades, capable of cutting the blades of grass and then shredding them. in very small fragments that are deposited on the ground.
The mulch lawnmower brings a number of advantages:
Time saved: you will no longer have to empty the bag and subsequently you will no longer have to dispose of the grass clippings in the ecological islands.
Easier to handle: the lawnmower is easier and lighter to move because it does not have to support the weight of the clippings inside a collection bag.
Reduces the need to fertilize the lawn: cut grass contains about 85% water and 5% nitrogen, it can provide up to 25% of the fertilizer requirement for an average lawn, and it decomposes in a few days, without leaving any trace.
How does the mulching lawnmower work?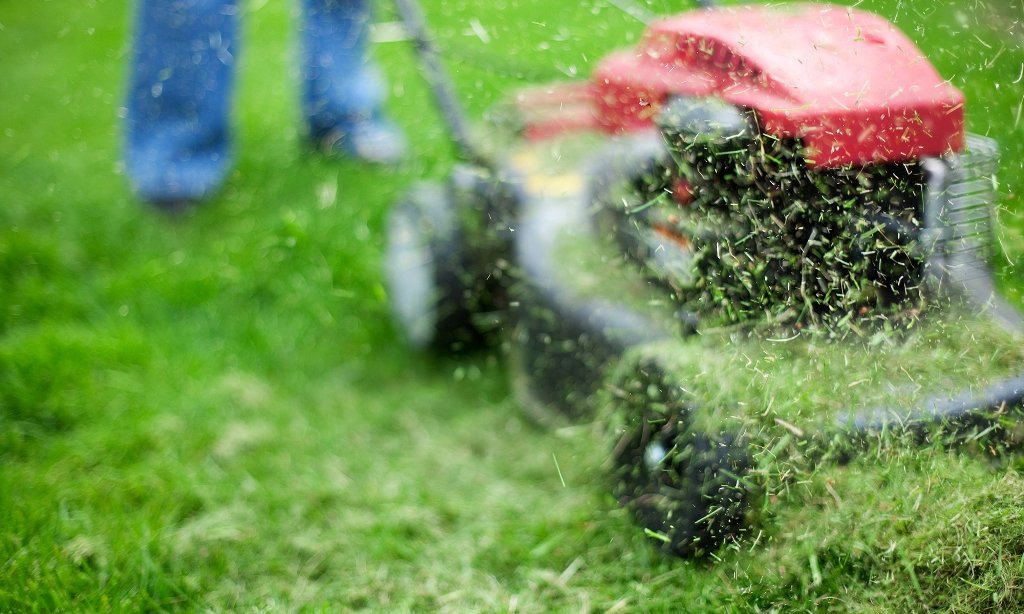 A mulching lawnmower differs from any other type of lawnmower in its recycling function.
The mulching function refers to the repeated shredding process of the mowed grass, which is cut so carefully and meticulously, that it is then released onto the lawn itself.
In this way we avoid producing useless waste, the latter decompose in a natural way, thus giving life to fertilizers.
The main feature of this garden care tool is the ability to reduce the grass to dust.
Such an electric mulching lawnmower allows you to obtain a well-kept and clean garden, characterized by an excellent appearance; moreover, such technology saves time, it will not be necessary to empty the basket that collects the mowed grass, allowing you to carry out continuous work, without interruptions.
In addition to making numerous improvements to the lawn mowing activity, there will be a notable decrease in waste, favoring a healthy for the environment.
When looking for the best mulching lawnmower, it is necessary to make a careful evaluation of all the products on the market, in order to buy the one that best suits your needs.
A guide is proposed below, with the aim of highlighting the basic specifications of such a product.
1. Honda HRG 416 SK mulching lawn mower
The first product proposed in this guide is signed by the Honda manufacturer; it has a remarkable forward speed, which allows you to mow the grass thanks to a high quality steel plate.
It has the ability to collect shredded grass in about 5 minutes, and does its job excellently in 11 minutes. It is also possible to adjust the cutting height of the grass, between 20 and 27 cm.
It is an excellent tool for cutting grass, which is used above all by professionals in the sector, but it can be useful for amateur gardening, its commands are simple and intuitive.
Those who have bought this mulching lawnmower declare themselves in terms of performance. It is light and efficient, and allows a precise and fast mowing, and is suitable for mowing the lawn of small and large gardens; it is also equipped with a side drain, which allows you not to reject the drains everywhere, preventing a clean shave.
2. Grizzly BRM 46-160 HA petrol lawn mower with HONDA engine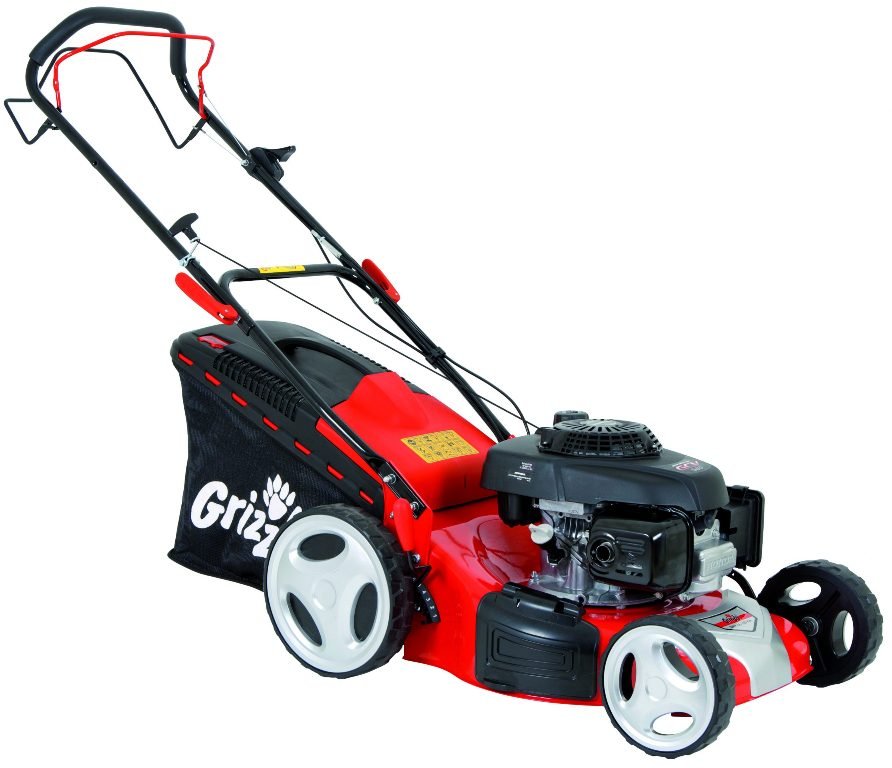 This mulching lawnmower is equipped with a strong steel frame, and a mower deck capable of cutting approximately 46 cm.
The engine of this mulching lawnmower is signed by Honda, and for this reason it is considered one of the best in circulation, both in terms of displacement and power. Like the previous model, this mulching ride-on mower is also equipped with a side discharge, so as to carry out a clean and efficient job.
The wheels are positioned on ball bearings, which allow excellent grip on any type of terrain. The engine is 4-stroke, and the lawnmower has two different tanks: one for gasoline, and one for engine oil.
This lawnmower is easily washable, practical to use, equipped with fast and intuitive.
All those who have chosen it, speak positively of this tool, which helps to perform precision work , suitable both for professionals in the sector and for those who mow their garden as a hobby, in an amateur way.
3. Murray EQ500 Mulching Lawnmower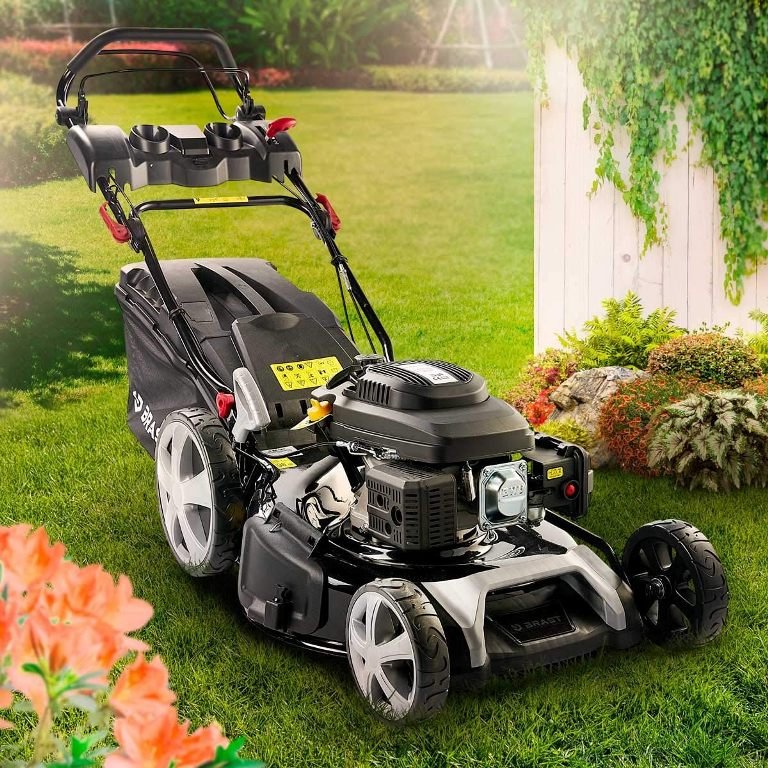 This other Murray model is equipped with a petrol engine, easy to use, and powerful. The cutting deck of this lawnmower is made of stainless steel, which allows the user to make a clean and decisive cut, avoiding damage and corrosion.
The cut of the grass can be adjusted according to your preferences, and can vary between 20 and 26 cm in height. The key feature of this garden tool is the fact that it performs 4 functions in 1: bagging, rear or side ejection, and crushing.
This murray model is a real guarantee in the mulching lawnmower sector.
4. Hyundai 65470 Self-propelled lawnmower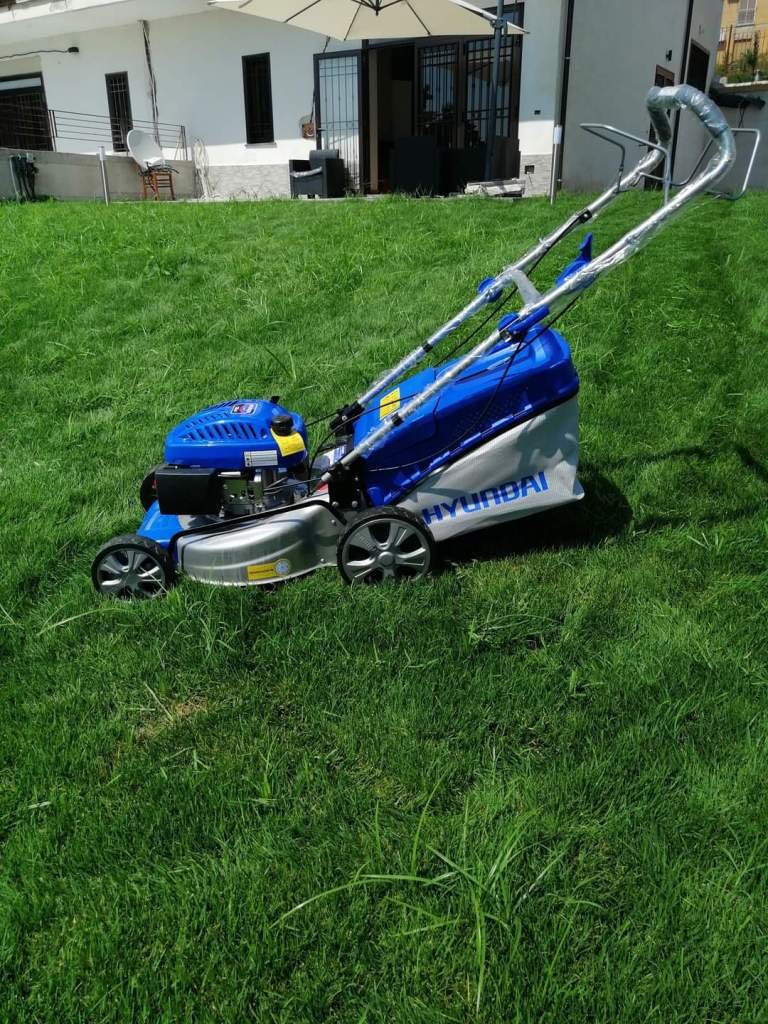 This Mulching lawnmower model is signed by the manufacturer Hyundai, which returns excellent performance, thanks to a powerful and well-calibrated engine.
It is equipped with high power, 4 processing times, a durable steel mower deck that does not corrode, and simple and intuitive controls.
This product is generally purchased by those who are familiar with the operation of mowing the grass, but it can also be bought by those who love to carry out this activity as a recreational pastime.
The Hyundai engine ensures a high speed, and a good functionality of the instrument, which can be used easily without waste.
All those who have purchased this product are extremely satisfied, thanks to the fact that the technology that supports this equipment is in line with the most modern requests in the field of gardening.
5. Mulching lawn mower with Honda engine
This latest model of Mulching lawnmower features a powerful Honda engine, which makes it one of the best products on the market.
It is equipped with a system that allows you to adjust the aluminum mower deck, choosing the cutting height of the grass. It is possible to choose different cutting modes, and adjust the plate in 5 different cutting positions.
This model of lawnmower has a comfortable and practical working position, which allows you to carry out your gardening activity in complete relaxation. Also this lawnmower has 4 functions in one, and allows you to perform an accurate lawn mowing in a short time.
The selling price of this product is cheap, a very good figure for such an item. In addition, the reviews of those who have bought it are positive, urging future buyers to buy this lawnmower.
Proper use of a mulching mower
Mow every 10-14 days.
For the best mulching result, mow in dry weather.
Golden rule: mow 1/3 the length of the grass, maximum.
For uncultivated lawns: mow in two stages. The first pass to the highest cut level (80-90 mm), the second pass to the medium cut level (50-70 mm).
For particularly dense and dense grass, mulch slowly.
Always cut the areas counterclockwise from the outside to the inside.
The benefits of mulching at a glance
30% time can be saved with a modern mulching mower.
Each year, up to two tons of cut grass accumulate on a 1,000 m² lawn. These cuttings must then be disposed of. Save not only the cost of this process, but up to 30% more time by mulching instead of bagged collection.
Mulch mowing fertilizes naturally – less fertilizer consumption.
Fertilize less frequently and cost less. The fine mulch continues to fertilize naturally, providing the lawn with nutrients for a longer period of time.
Fresh and healthy green – for a perfect ornamental lawnA thin layer of mulch protects the soil from drying out, so that even in hot summer months the lawn does not become patchy.
Easily cuts and shreds tall grass up to 20 cm in height.
Depending on the model, AS-Motor mulching mowers effortlessly shred grass up to 20 cm in height. This means you can mow less often.
Advantages of AS mulching mowers
With the power and autonomy of devices with internal combustion engines.
The unique design of the mulching unit.
High stability mulching unit in galvanized and powder coated steel.
3 bearing crankshaft support.
Protects the engine from invisible objects.
Cutting blade in special steel.
Mulching blade developed internally with three cutting edges.
Central height.
Adjustment Adjust the desired cutting height quickly and easily.
Lightweight and stable.
Wheels Double ball bearing front wheels minimize impact on the grass, which rises quickly to be cut by the blade and delivers extremely even mowing results.
Mulching mowers for all types of terrain
Find together with your AS-Motor dealer the mulching mower that best suits your business.
With all-wheel drive and 2-stroke AS engine or AS-Motor Electric drive for mowing on slopes.
Cutting widths of 42, 47 and 51 cm and cutting height adjustment of 30 – 90 mm.
EasyStart function on models with 2-stroke engine; 60% less pulling force required on the starter rope.
The 5-liter tank for professionals is standard on some models.
Mulching mowers with 2in1 function: Turn your mulching mower into a side discharge mower for easier mowing of taller grass.
Maximum working speed up to 2,100 m² / h (depending on the model).