If you're looking for lawn care equipment, you'll find a long list from Husqvarna. This is because it has a series of options that facilitate these tasks. Thus,  the best maintenance for the lawn  can be done by yourself and safely.
Husqvarna equipment is in the highest ranking of mowers. It is possible because they offer a good relationship between quality and price, as well as easy-to-use machines. So simple that you only need to activate it and start the job  as if you were a professional .
The little you will pay for a mower is an investment that you will recover in a short time. The savings that you will have  by not needing external personnel for the garden is one way. Therefore, having this important solution within reach, you simply have to know the equipment that suits you.
1. Husqvarna TC 138 mower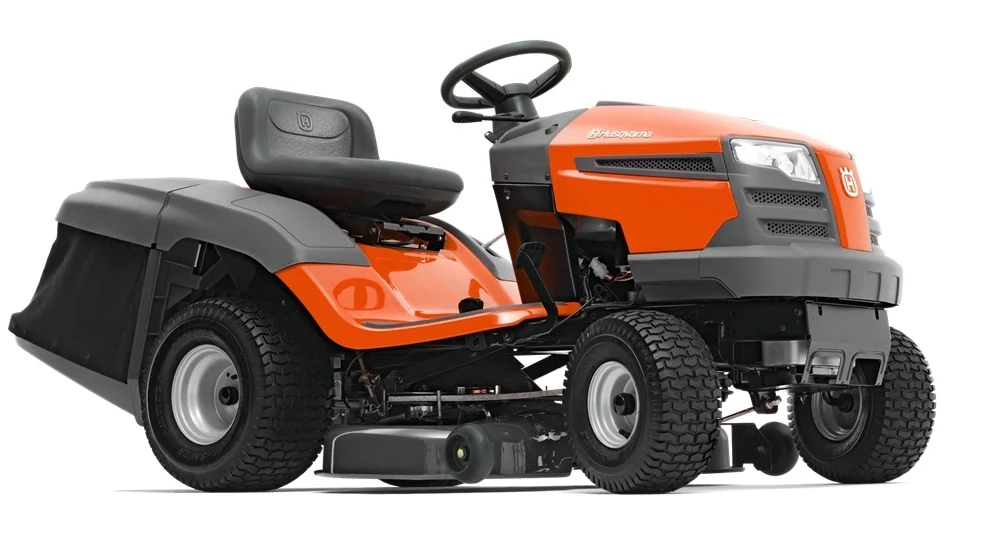 This lawnmower is a garden tractor that will delight owners of small and medium-sized areas. Its cutting width is 97 cm and its cutting height varies between 38 and 102 mm, which makes it ideal for this type of terrain. Its 220-litre collecting tank can be emptied easily from the driver's seat.
But the most relevant element with this model is its Husqvarna Endurance engine. Installed under the hood, it delivers a power of 8600 Watts. Such power can only mean outstanding performance. This car also offers a hydrostatic transmission with a pedal, which facilitates its handling. Thanks to its air induction cutting system, the grass is lifted at the same height, thus ensuring a precise result.
This Husqvarna mower offers 3 mowing techniques namely mulching, rear ejection and collection with a 220 liter bag. And as accessories, it comes with a deflector and BioClip trim.
| | |
| --- | --- |
| PROS | CONS |
| Auto start engine | The clutch of the blades is done manually. |
| Well-developed cutting system | Delivered without an obstructor for mulching, a bit of a shame. |
| Blades suitable for mulching. | |
2. HUSQVARNA LC253S ABS lawnmower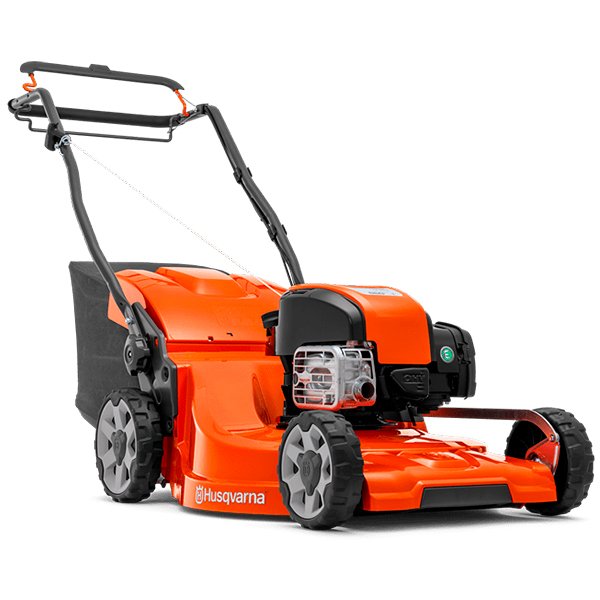 You have a lawn that you are unable to maintain as it should, it is certainly because you do not have the device you need. The Husqvarna LC253S mower is a model that is suitable for everyone and whether you are a beginner or a regular, you can use it completely.
It has a folding handlebar to facilitate its storage in a room. Its design is solid and it is equipped with a large filling tray. This mower has a powerful engine that delivers high operating performance and incredible speed. On the other hand, it has a rather high selling price and a heavy weight that is difficult to lift on your own.
| | |
| --- | --- |
| PROS | CONS |
| With a Briggs & Stratton engine with a displacement of 63 cm3, power of 2.4 kW and 2800 RPM. | It has only one speed. |
| The cutting height is regulated in 6 levels ranging from 20 mm to 75 mm. | Does not include blade brakes. |
| The cutting width is quite wide at 53 cm. | |
| Its handlebar is adjustable in 2 positions, it is also ergonomic. | |
| Large 60L waste tank. | |
| Ignition ReadyStart so that it starts on the first try. | |
3. Automower 420 robot lawn mower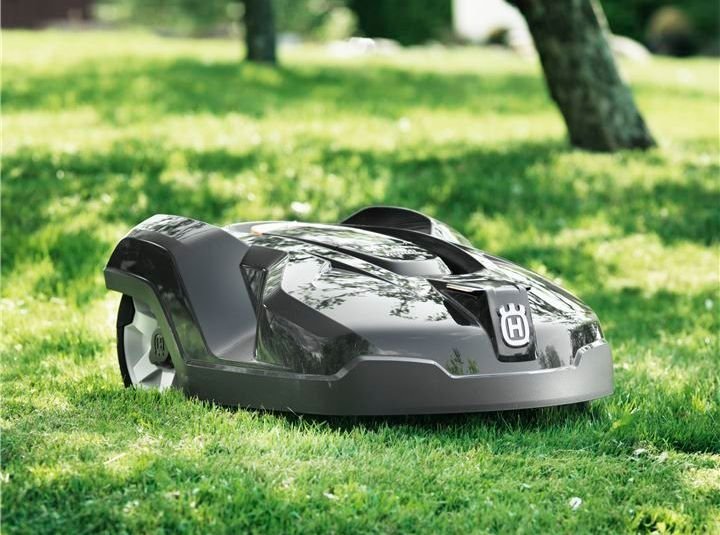 Belonging to the latest generation of robot mowers from the brand, this model is an impressive device. One couldn't talk about the best Husqvarna mowers without mentioning it. This high-tech product has 4 large wheels. This makes it easily adaptable to complex terrains of up to 2200 square meters and slopes of 45%.
Its cutting height ranges from 20 to 60 mm. As for the cutting width, it amounts to 24 cm. Moreover, this robot mower has three robust blades, each one sharper than the other.
In terms of speeds, our model can process 93 square meters per hour, a very good performance which is suitable for those wishing to use their robot mower frequently.
The device is also equipped with a Li-ion battery, with an autonomy of 65 minutes when it is running. Regarding noise, this robot lawn mower is one of the quietest models on the market with its 58 dB. This is a major advantage if you want to mow your garden at night without disturbing your neighbors.
Connected device, you can program this mower, control it at any time using the mobile application on your smartphone. You can even add, change or eliminate a mowing program.
| | |
| --- | --- |
| PROS | CONS |
| Ultra efficient | The price is a little high, but considering its performance, this price is very well justified. |
| Quiet | |
| Easy to program. | |
4. HUSQVARNA LAWN MOWER TRACTOR TC142T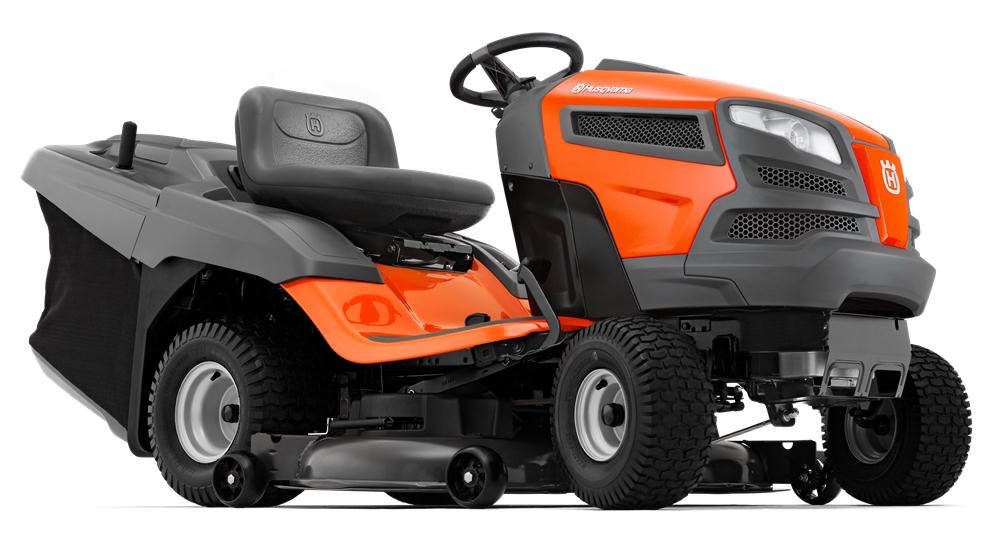 This Husqvarna lawn tractor is designed to carry out work on medium or large land with an area of ​​approximately 4000m2 . It is very comfortable because the operator can perform all actions from the seat, including emptying the debris collector.
It can be used at all times of the year, since the brand offers a wide range of accessories to complement and diversify the use of the Husqvarna lawn tractor.
| | |
| --- | --- |
| PROS | CONS |
| With Briggs & Stratton 2-cylinder 652cc engine, power of 11.1 kW and 2600 MPR. | Similar models are available for cheaper prices. |
| Its transmission is hydrostatic and is operated with the pedal as well as the speed. | |
| The cutting width is 107 cm and height from 32 to 102 mm. | |
| It has headlights, cup holders and easy seat height adjustment. | |
| 320 L collection tank. It also has a Bioclip system to cut the grass very small and use it as mulch. | |
| Easy starter without primer just by turning the key. Large fuel tank for 9.5 L. | |
5. Husqvarna LC140 S Mower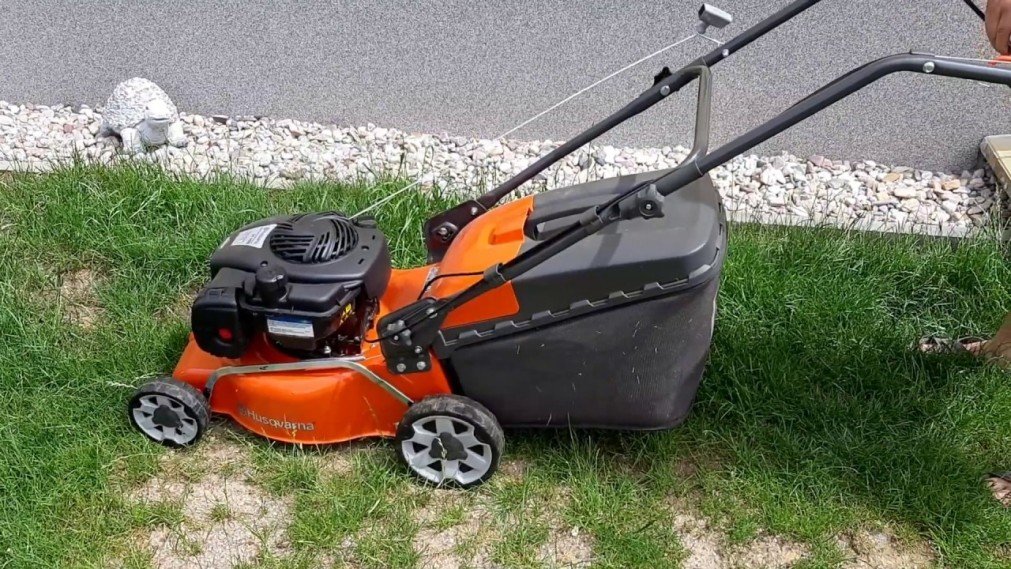 This model is an easy-to-use walk-behind mower with features like its ergonomically designed cutting deck, height-adjustable handlebars and soft-grip handle. Machine dedicated to small surfaces, its cutting height varies between 25 and 75 mm. So you have the choice between various cutting positions to mow your lawn.
As a cutting technique, the LC140 S mower favors rear ejection. It therefore necessarily comes with a 50-litre collection box responsible for collecting the mowing waste.
As for the engine, this Husqvarna mower sports a Briggs and Stratton 450 Series 125cc 4-stroke engine. Its power is 1800 Watts with a speed of 3000 rpm.
Weighing 26.5 kilograms, this machine can be transported and stored without any difficulty. It is true that it does not include some high-end features such as mulching, but the LC140 S model still manages to offer us a quality result on small lawns.
| | |
| --- | --- |
| PROS | CONS |
| 7 cutting positions | No Mulching function |
| Easy to transport and store | The classic start, that is to say with a handle launcher. |
| Moderate price. | |
Guide: Buy the right Husqvarna lawn mower model
When buying a Husqvarna lawn mower, there are a few things to consider. So that you too can find the right Husqvarna lawn mower, we have summarized the most important purchase criteria for you here.
When buying a Husqvarna lawn mower, the engine power should be considered in addition to the cutting width. The cutting width can vary between 30 and 55 cm. Depending on how much space is available, the appropriate cutting width should be selected. For models with a cutting width of more than 50 cm, however, it is important to ensure that there is enough space for the edge of the lawn, otherwise problems could arise with narrower models.
When buying a Husqvarna lawn mower, you should pay attention to the height adjustment. In this way, you can adapt the lawnmower to the respective cutting width and thus cut perfectly. In addition, the Husqvarna lawn mower should have a mulch button, which distributes the clippings evenly.
The grass catcher is an important element when buying a Husqvarna lawn mower. It should be large enough to hold the foliage but not too heavy for easy emptying. In addition, it should be stable and not collapse when the basket is full.
The wheels of the Husqvarna lawn mower should have as large a surface as possible so that the mower can also drive over larger bumps in the lawn. In addition, the tire rubber compound should be well profiled in order to be able to move the mower safely even in wet and slippery conditions.
The Husqvarna lawn mower handles should be comfortable to hold and not too heavy. You should also pay attention to good workmanship, otherwise the handles can wear out quickly.
The mower fitted with a collector or a collection box is intended, in particular, for those who want to collect the cut grass in order to obtain a more precise result. For an efficient and fast cut, the side discharge mower is the most recommended model. And in order to fertilize your lawn, choose a machine integrating the Mulching function.
If your Husqvarna mower is accompanied by a wide choice of accessories, this will of course allow you to use your machine for a long time without the slightest problem. Additional blades, anchor screws, snow thrower, these accessories will be invaluable to you to facilitate your mowing work.
FAQ
How often should the Husqvarna lawn mower be cleaned?
The Husqvarna lawn mower should be cleaned at least once a year.
What settings are best for mowing with the Husqvarna lawn mower?
The settings that are best for mowing with the Husqvarna lawn mower vary depending on the type of mower. Basically, you should adjust the cutting height according to the lawn size and guide the lawn mower in an even arc over the green.
How can I change the drive belt on my Husqvarna lawn mower?
To change the drive belt on a Husqvarna lawn mower, rotate the mower 180 degrees and remove the drive motor cover. Then loosen the belt from the motor and the auger. The new belt is now fitted by first attaching it to the motor and then fitting it around the auger. During assembly, you should be careful that the belt does not run over the V-belt. Finally put the cover back on and rotate the mower back to its original position.
How to disassemble a Husqvarna lawn tractor clutch?
Start by extracting the clutch using a claw puller. Then attach the claws to the pulley and make a small hole on the bolt head to clamp the puller. This will help you remove the clutch better.
How to install a Husqvarna robot lawn mower?
Place the robot lawn mower on a flat surface, in the middle of the cutting area, leaving some free space around it. Make sure the equipment is near an electrical outlet.

Then charge the battery. Lay the boundary wire along the edges of the lawn to determine the cutting area. Thus, the machine will know very well where to go.

Next, turn on your Husqvarna mower. After entering your four-digit PIN code, set the cutting height and hours of operation. And let the machine do its job.
Which gasoline for Husqvarna mower?
It is advisable to use SP95 gasoline or a special alkylate-based gasoline to operate your Husqvarna mower.
SP95 consists of a maximum of 5% bioethanol. And it is an oil that adapts to all 4-stroke cycle engines.
Why choose a Husqvarna mower?
Because it has many advantages and surpasses certain models from competing brands. Effective, it is aimed at both individuals and professionals, with very easy handling. The user will not be forced to provide too much effort to accomplish his task.

The brand's mowers do a remarkable job, as proven by the Automower 420 model. This robot mower takes care of your lawn day and night, regardless of the weather conditions. The result that emerges is precise, careful, impeccable, in a word, perfect, even on complex terrain.

Compact, Husqvarna mowers also have exceptional maneuverability. The majority of them are equipped with a height-adjustable handlebar and a soft grip for long-lasting comfort.
Conclusion
We can recommend Husqvarna lawn mowers without reservation, especially because of the high quality. Just make sure you choose the right concept and consider beforehand whether a petrol engine, a Husqvarna electric lawn mower, a cordless lawn mower or maybe even a robotic lawnmower is the right choice for you.
If you get it right, you will almost always be satisfied with a Husqvarna lawn mower – provided you don't have to worry about the slightly higher average price of Husqvarna lawn mowers.