If you are one of the many homeowners who are afraid to mow their lawn, you will be delighted to know about the opportunity to invest in the best zero-turn mower on the market. Don't forget to take a look at the best riding mowers . These mowers are powerful, sturdy and ready to get the job done faster than you ever imagined.
Each of the lawn mowers are innovative and show great ingenuity when it comes to solving one of the most tedious tasks in a reasonable amount of time. For smaller jobs, you might consider trimmers or these small yard lawn mowers.
There are many great brands of zero turn mowers on the market, but when it comes down to it, reading about all of them is just too time consuming for most homeowners. Fortunately, we have done all the work for you. We've put together an overview of the top 10 zero-turn mowers on the market and broken down everything you need to know about each one.
What is a zero turn lawn mower?
Zero-turn mowers provide faster mowing due to their superior maneuverability. However, unlike self-propelled mowers, zero-turn mowers are usually equipped with two levers located on either side of the operator instead of a steering wheel. These levers allow the operator to control the mower and allow it to be turned on at any time. While it allows faster cornering, it does have a learning curve that new owners unfamiliar with it will face.
How does a zero turn mower work?
Zero-turn mowers typically use four wheels: two swiveling front tires and two large drive tires located at the rear. The two drive tires can rotate independently of each other in the opposite or the same direction, determining the direction of the mower.
Nowadays, most zero-turn mowers use differential steering to change direction. By operating levers that change the individual speeds and movements of the drive wheels, the operator can move forward, backward and turn.
The mower can move forward by pushing both levers forward with equal force, and vice versa if you want to move it backwards. On the other hand, the mower can make a smooth turn by pushing the lever more than the other. Finally, you can perform the famous zero-radius turn by moving one lever forward and pulling back on the other. This ability allows the mower to turn freely, allowing the machine to move and mow faster.
1. Husqvarna Z254F 54″ zero turn mower
The Husqvarna Z254 has received positive reviews for its innovative user interface. A notable addition is the SmartSwitch ignition system, which allows users to start the engine with the touch of a finger. It also provides keyless security, which prevents complications such as leaving the mower unattended or losing the ignition keys.
The Husqvarna Z254 is equipped with prefabricated cutting decks that have a strong frame with stiff rollers to reduce stiffness while driving. The frame provides a stable foundation for the vehicle's suspension and minimizes chassis flex. Stamped cutting decks are underlined by double steel sheeting for improved spindle support and improved performance over time. The lawn mower consists of two mower blades that provide excellent cutting performance, six height positions for easy access, a rear engine cover and three anti-scalp wheels.
If you're wondering how a Z-turn lawn mower works, then here's a little clue – air suction power. While you're moving your lawn, the machine draws in air from the top and bottom of the deck. This makes it easy to remove excess grass from your lawn, giving you a neat 54-inch cutting width. The machine has also been designed with a removable base plate that allows easy access to the lid. The hydrostatic transmission is equipped with 10cc pumps. See that cool instantly. The machine offers zero-turn transmissions that require no maintenance, as well as an automatic parking brake system for easy operation.
Specifications:
Brand: Husqvarna

Cutting Width: 54 inches

Cutting height: 1.5 to 4 inches.

Headlights: Yes
| | |
| --- | --- |
| PROS | CONS |
| Powered by a V-Twin Kohler 26 cc 747 series engine with 7,000 hp. | Opens the mower blades when you raise the chute. |
| It offers a 54″ FAB mower deck with 3 knives. | |
| It has a ten-gauge welded steel construction. | |
| The seat has a soft and comfortable support with a high back. | |
| It features an ergonomic control panel that is easy to reach and equipped with user-friendly controls. | |
| Has strong back protection. | |
| It has a minimum cutting height of 1.5 inches and a maximum of 4 inches. | |
Our verdict
Husqvarna 967045201 is one of the best designed zero turn mowers we have seen. The device is able to maneuver quickly and efficiently on the lawn and in the garden. You will be able to work quickly and efficiently thanks to the tremendous power and speed that this machine can provide. Husqvarna 967045201 is capable of 21 horsepower and has one of the highest speeds per hour of its type in its class. This, combined with ergonomic controls and design, makes it the perfect machine for any home owner.
2. Cub Cadet ZT1 50 Zero Turn Lawn Mower
Cub Cadet has created a superior zero-turn mower that has all the features you need for a clean and professional cut. Not only have they built the mower on a sturdy tubular steel frame, but they've also designed it with your comfort in mind, with a large, comfortable, high-back seat, ample legroom, and easy-to-reach controls. The wide 50″ deck has 3 cutting blades complemented by an optimized grass laying system for a clean and efficient cut.
Plus, the powerful twin-cylinder engine glides across the lawn at a steady 7.5 mph, giving you more time to enjoy your lawn space and less time to mow it! Another great feature is the adjustable deck height, which ranges from 1″ to 4.5″ with 15 adjustment options, controlled from an easily accessible handle, giving you flexibility and choice for your lawn.
Specifications:
Engine power 23 hp

Cutting Width 50″

Fuel Tank Capacity 3.5 gal
| | |
| --- | --- |
| PROS | CONS |
| Strong tubular steel frame | High initial cost |
| Large comfortable seat | Engine can be thirsty running wide open |
| Powerful two-cylinder engine with 23 hp | |
Our verdict
Cub Cadet's Ultima ZT1 is the ultimate zero turn mower with a powerful engine, efficient cutting and cutting equipment and a large comfortable seat. You will wonder why you waited so long to buy it. It is ideal for mowing large lawns and land up to 4 acres for your own home, sports fields or for commercial mowing. In addition, the Cub Cadet has added a 23 hp twin-cylinder engine to guide you over soft hills and around obstacles, making it one of the best zero-turn mowers out there.
3. Troy-Bilt Mustang Fit Riding Lawnmower
If you're looking for a machine that's capable of zero-rev turns but isn't quite ready to forgo the simplicity of a traditional mower ride, the Troy-Belt Mustang 452cc makes an innovative compromise. The Troy-Bilt 452cc allows you to get the job done quickly and efficiently while maintaining the familiar design of a traditional mower. This unique design also gives you more control when you cut grass on hills and uneven terrain. You'll be able to keep the benefits of a zero-turn mower class while gaining extra control in less than ideal mowing conditions.
You'll also appreciate the 34″ mowing path. The dual blade system makes it easy to get the perfect finish for your yard. In addition, you can take advantage of the impressive single-cylinder OHV engine from Troy-Bilt. Perfect for any residential mowing needs, the Mustang 452cc is one of the smartest options for those who need a zero-turn mower but don't want to give up a traditional wheel. You can also require a rear fan to clear debris left while cutting your lawn.
Specifications:
Engine Power – HP

Cutting Width 34″

 

Fuel Capacity 2.8 gal
| | |
| --- | --- |
| PROS | CONS |
| Features of the dual blade system | High maintenance |
| Has a 34″ mowing path | |
| Dual hydrostatic transmission | |
Our verdict
The Troy Bilt 452cc is an impressive machine that allows you to keep up with your riding habit mower while still getting all the benefits of zero turn. You will be able to better control hills and rough terrain thanks to the 4-wheel steering system. Plus, the triple blade system ensures you always get the perfect cut.
4. John Deere Z345M 42 Zero Turn Lawn Mower
This zero turn lawn mower is from John Deere perfect for homeowners with 2-5 acres who are looking for an exceptional cut and a mower that maneuvers smoothly around obstacles and paths. The John Deere mower can handle small hills and bumps thanks to its large rear wheels and sturdy frame. It has a 42″ deck covering 3 large blades with multiple cutting heights for flexible and efficient cutting heights.
 It is a reliable lawn mower, built with customers in mind; with excellent engine power thanks to the John Deere branded 22 hp engine and speeds up to 7 miles per hour. It features Ready Start technology, which means the engine starts as quickly as a car, without a start-up engine like many other power tools – another feature built with customers in mind.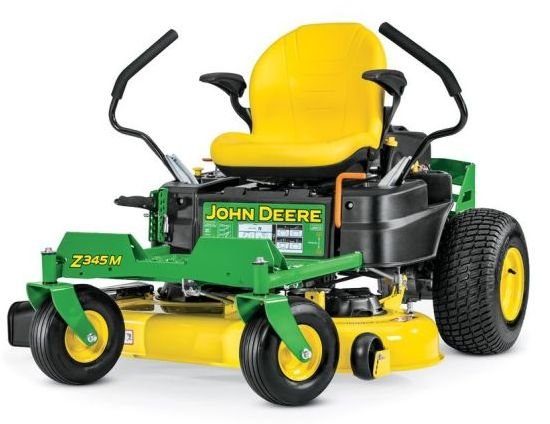 Specifications:
Engine power 22 hp

Cutting Width 42″

Fuel Tank Capacity 3 gal
| | |
| --- | --- |
| PROS | CONS |
| 42″ deck with 3 large blades | No headlights, sunshades, and mat included |
| John Deer branded 22 hp | Challenging to replace blades |
| Ready engine start system | |
Our verdict
John Deere designed this lawnmower with home users in mind, so it's perfect if you have 2-5 acres to maintain. With easy control on the boom, this is a fast mower that moves quickly around curves and objects. As a trusted brand, John Deere offers warranty and white-glove service to help you get started with your mower and understand how to properly service it. This mower has 3 large blades under the 42″ deck that can quickly mulch or shed grass and promote a healthy lawn.
5. RYOBI RY48ZTR100 Zero Turn Lawn Mower
The Ryobi lawn mower is powered by a rechargeable battery and 4 brushless motors. This is the high power without the gas, smell and noise that comes with petrol when using 100Ah batteries that are recharged via a standard 120 volt outlet. On a single charge, the lawn mower can cover 3 acres, effectively cutting with two sharp blades under a 42-inch deck.
Zero Turn technology handles obstacles such as poles, patio paths or flower beds, making it a great round mower. This mower also comes with LED headlights, a comfortable high back chair and a classic Ryobi rugged frame. For precise cutting, this model offers cutting heights from 1.5″ to 4.5″ controlled with a simple lever.
Specifications:
Engine power Cuts 3 acres per charge

Cut width 42 inches

Fuel tank capacity

Battery charged
| | |
| --- | --- |
| PROS | CONS |
| Innovative battery | Expensive |
| 2 large steel blades in a 42″ deck | Not comfortable |
| 4 large brushless motors | |
Our verdict
Ryobi leads the industry in innovation with its horticultural energy products that use electric battery rather than gas. Gas lawnmowers can often be smelly or emit additional harmful gases into your yard and are loud when running. With an electric battery, you are safe in the knowledge that you are not adding to environmental problems and your lawnmower will run much quieter, causing less disturbance to you. and your neighbors. The control panel provides vital statistics on battery life, run time and USB charging port – Ryobi shows once again that electric power is the future of garden energy.
6. Cub Cadet ZT1 42 Zero Turn Lawn Mower
This model is from Cub Cadet is the little brother in the ZT1 lineup and offers great engine power, clean cutting, efficient turf laying and an impressively comfortable ride. With a wide 42-inch deck, it can quickly cut your ground into beautiful swaths and confidently maneuver around patio edges and borders, as well as any obstacles such as poles and bollards. This mower is equipped with two large knees that control the speed of the mower and provide easy access to the cutting height adjuster.
The Cub Cadet has a built-in 15-setting cutting height system, from 1″ to 4.5″, for cutting flexibility and precision. The Cub Cadet has a great reputation for garden power tools and this versatile mower is no exception. With thoughtful extras such as LED headlights and a tall rear seat
Specifications
Engine power 22 hp

Cut Width 42″

Fuel Capacity 3.5 gal
| | |
| --- | --- |
| PROS | CONS |
| 42″ deck with 3 sharp blades | Tires don't have a lot of traction |
| Powerful 22 hp engine | Collects a lot of grass on the de |
| Comfortable spacious seat | |
Our verdict
If you have 2-3 acres of flat lawn, you are probably looking for a zero-turn mower that performs well in every way, including engine power, deck size, and comfort. This ZT1 model from Cub Cadet might be what you're looking for, with a classic design, solid features and modest engine power, this is a great lawnmower that won't let you down. One of the great features is the 42″ deck with 3 sharp cutting blades that can cut through your acres of grass quickly with ease. Medium size engine with 23 hp. ideal for gliding over slightly hilly terrain as well as working around flower beds, paths and poles.
7. Toro 75750 Zero Turn Lawn Mower
Many of Toro's products are designed for commercial purposes and they bring this experience to the design and manufacture of mowers for home users as well. With a strong frame, forged iron deck and large wide tires, they bring all the best features to this shiny and powerful mower without sacrificing cutting speed and efficiency. 23 hp Kawasaki engine gives the lawn mower speed and allows 3 blades to cut effectively under a 50″ iron deck.
Nifty has added additional features such as cup holders and wheel fenders to keep your mower clean. Toro has customer convenience in mind when designing this Zero TurnMower. In addition, the seat is well cushioned, with a high back and armrests for a smooth ride, comfortable for mowing the entire lawn. It also has space under the seat to place items like your phone, keys and gloves that would otherwise jump out of your pockets.
Specifications
Engine power 23 hp

Cutting Width 50″

Fuel Tank Capacity 3 gal
| | |
| --- | --- |
| PROS | CONS |
| Big Kawasaki 23hp engine | Does not come with a headlight or shade |
| 50″ iron deck and 3 large blades | Not durable |
| Foot lever for deck height adjustment | |
Our verdict
This mower from Toro is an efficient cutting machine with well-built, durable parts that will last for years. It has a combination of good features including a powerful commercial engine, good speed with big wheels and 2 big laps for precise control. This mower from Toro also stands out for its attention to detail and features that give rider comfort equal importance to cutting power. If you're looking for something that you can comfortably ride over and over again, this Toro zero-turn mower is for you.
8. Ariens ICON-X
If you're looking for a powerful zero-turn mower from a reputable company, the Ariens ICON-X is one of the smartest investments you could make. This high quality machine is made from durable materials that will last for years. The Ariens IKON-X comes with an ergonomic design to keep you comfortable throughout your work day and is easy to operate with customizable controls. In addition to superior comfort, the Ariens IKON-X boasts a 52-inch mowing path. This makes it easy to cut a large area of ​​land in a short time.
If you have a landscaping business, this is a great way to expand your company's services without hiring more workers. You can save an impressive amount of time. Last but not least, the Ariens IKON-X has a 23 horsepower engine built by Kawasaki. This powerful and efficient mechanism will help you make the most of your time and money. This is one of the best designs on the market and has a number of benefits that any home owner or contractor can appreciate.
Specifications
Engine power 23 hp

Cut Width 52″

Fuel Capacity 2.8 gal
| | |
| --- | --- |
| PROS | CONS |
| Features 23 HP Kawasaki engine | Does not come with headlights |
| Features of the 52″ cutting deck | The mower may wheelie when climbing a slight hill with a heavy trailer load. |
| Has an excellent ergonomic design | |
Our verdict
Ariens IKON-X is one of the best investments available on the market right now. The machine has many great features such as a 52″ cutting deck that will allow you to finish your lawn job quickly and efficiently. Plus, you'll benefit from the superior ergonomic design while working long hours. Last but not least, the 23 HP Kawasaki engine makes the Ariens IKON-X unbeatable.
9. Troy-Belt Mustang 24HP
If you need a reliable and constant source of power to get the job done, the Troy-Belt Mustang 24HP is the perfect investment for you. The Troy-Bilt Mustang 24HP is built with strong and durable materials that make it easy and quick to get the job done. In addition, the machine is made from only the safest and most durable materials on the market to ensure you get the most out of your investment. The Troy-Bilt Mustang 24HP is powered by an impressive 24 hp Briggs & Stratton engine – one of the best engines on the market.
Briggs & Stratton is one of the most experienced engine manufacturers on the market, and also one of the most respected. With this powerful machine, you can significantly reduce the amount of time it takes to mow your lawn. The Troy-Bilt Mustang 24HP is also equipped with "Power Take Off" technology that allows you to start and stop quickly. You'll be able to take advantage of both this and the 54″ cutting deck when it impacts the speed at which your landscaping business can grow.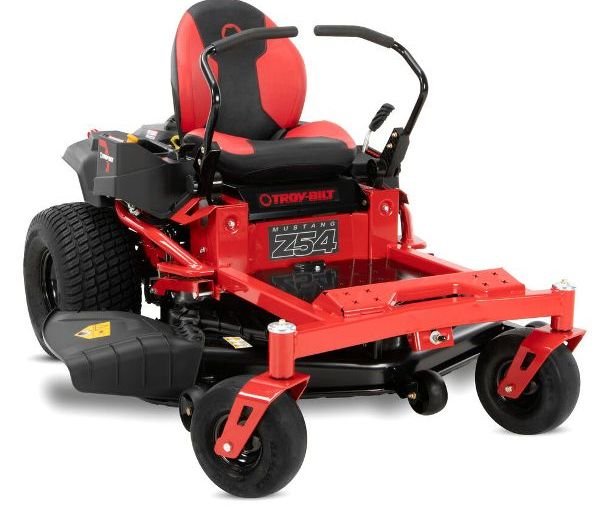 Specifications
Engine power 24 hp

Cut Width 54″

Fuel Capacity 2.8 gal
| | |
| --- | --- |
| PROS | CONS |
| Features 25 hp Briggs & Stratton engine | Does not have enough traction when mowing hills sideways. |
| Features 'Power Take Off' Technology | |
| Has a 54″ cutting deck | |
Our verdict
The Troy-Bilt Mustang 24HP is a powerful and impressive device that makes the job of professional landscapers easier. This zero-turn commercial mower facilitates consistent and efficient work in record time. You'll be able to move fast with a 24-horsepower Briggs & Stratton engine. You can also take advantage of Power Take Off technology to get you started quickly.
10. Beast 62ZBBM20 Zero Turn Lawn Mower
This mower is truly a beast! It has been developed for commercial use – including golf courses, sports fields and a large area of ​​land. It's also great if your land is uneven or over 5 acres, as it could be used for residential real estate. It has a large gas tank that can hold 7.5 gallons of gas and a heavy duty 25 hp engine, so it can work on large areas of land and is difficult to cut. It also has a roll cage and seat belt that protects the rider when mowing bumps, descents and hills, such as on a golf course. Beast has developed a powerful motor capable of reaching speeds of up to 12 mph, almost double the speed of your conventional mower, helping to significantly reduce lawn maintenance time.
Specifications
Engine power 25 hp

Cut Width 62″

Fuel Capacity 7.5 gal
| | |
| --- | --- |
| PROS | CONS |
| 62″ deck with 3 large blades | Eats through a full tank of gas very fast |
| Roll and seat belt for safety | |
| Up to 12 mph for faster cutting time | |
Our verdict
This is a fantastic zero turn mower, with a large gas tank, speedy ride and heavy duty engine, it is top of the range for rigid mowers. If you have hilly or dip land, it is specially designed for this type of land and may be the mower for you. With a large 62-inch deck and speeds up to 12 mph, the Beast mower can quickly tidy up your lawn and cut your mowing time.
What to look for when buying a zero turn mower?
If you're going to buy a zero-turn mower, you need to make sure you get the best possible return on your investment. To make sure you're getting the smartest buy for your money, there are a few things you need to take into account before you make a purchase. Below is a list of features that you should keep a close eye on when exploring the different models of zero turn lawn mowers on the market?
Engine HP
Strength goes a long way when it comes to a task like lawn mowing. The more horsepower you have backing your machine, the better you will be when it comes to running faster and more efficiently. You'll be able to work through the day with impressive speed and accuracy if you know your machine has enough power to get the job done.
If you have a property that isn't much larger than an acre, or doesn't require more than a few hours of work, you should be able to get by with a lower capacity model. However, if you have a large estate or do professional landscaping, you will need a machine with plenty of horsepower that you can save while you work.
Cutting Width
A powerful motor will go a long way when it comes to getting the job done, but proper pruning can be just as important. The width of the cut (also called the mowing path) is very important when it comes to a good investment. Many homeowners believe that the biggest payoff will come from the widest cut, but this is not necessarily the case. Even though you can quickly mow open areas of lawn in a wide way, you still need to consider obstacles in the yard that you will need to get around.
If you are working on lawns with multiple garden areas or other decorative forms of plant life, you must ensure that the cutting platform is not too large to fit in between. The key to finding the optimal cutting width is to find a platform that is wide enough to take care of large areas of your yard while still being small enough to easily maneuver into tight spaces. You may also want to invest in a sturdy wheelbarrow for your gardening needs.
Transmission
If you're investing in a residential zero-turn mower, you can get by with a low-end transmission. Low grade transmissions have no problem when it comes to taking care of a small yard. However, if you have a large enough estate to care for or need a machine capable of meeting the demands of a full day's work, you will need a more powerful transmission. Lack of proper transmission can lead to more serious problems later on.
When it comes to buying a cheaper lawn mower With a weak transmission or buying a more expensive model with a better transmission, you always have to pay extra. Failure to do so could result in you ruining the transmission on your machine and spending more money on repairs or replacements than if you had simply bought a more reliable model.
Fuel tank capacity
When looking for the best match, you'll also want to consider fuel capacity. This will be especially important if you have a large lawn for mowing or professional work. You need to make sure you have a fuel tank that can take care of your needs without requiring you to stop and refill your tank all the time.
Weight
Last but not least, consider the weight of the mower you are investing in. If you need a landscaping machine, you don't need the mower to be too heavy to easily carry the machine from place to place. You also need to be sure that it is not too heavy for the lift or lifting machine you have. If so, you won't be able to use your lift to get under a car and sharpen the blades.
Comparison Chart of Commercial Zero Turn Mowers
When it comes to commercial quality mowers, you have many options to turn to. There are many great companies on the market that make the highest quality zero turn mowers, but when it comes to quality, performance and price, three brands stand out from the rest.
Husqvarna
Husqvarna is one of the best brands for any homeowner to invest in. They have a wide selection of non-tilt mowers and they offer a lot of variety. The company has years of experience when it comes to making machines of the highest quality and this shows the standard of quality that comes with every mower they manufacture. They offer powerful and efficient machines that are capable of smooth transitions and are fairly quiet compared to the industry standard.
Ariens
Ariens is a great company that offers professional cutting . They are a great company if you can't find a Husqvarna that fits your needs, but try the Husqvarna YTA24V48 . They offer top quality machines that are the best for getting the job done quickly and efficiently. They also tend to be much quieter than other brands, so if you live or work in areas with noise restrictions, this could be a great investment for you.
Pulan Pro
If you want top quality commercial zero turnover that keeps you on budget, this is a great brand. You will be able to enjoy all the benefits of a commercial quality mower without having to pay the same price as brands like Husqvarna or Ariens. This is a great compromise for anyone who needs a powerful machine to take care of their landscaping work.
Best Zero Turn Mowers – Frequently Asked Questions
Are zero turn mowers better than regular mowers?
ZT mowers are known for their speed and maneuverability. This can cut your lawn mowing time and effort in half. In addition, compared to conventional mowers such as push and motor mowers, the operator can mow the lawn by operating the machine, which makes the task comfortable and easy.
Is it difficult to operate a zero-turn mower?
It might be a bit difficult for novice users due to its controls. Instead of a steering wheel, ZT mowers are usually equipped with levers. You can make the lawnmower move forward, backward or turn, depending on your actions.
Is it appropriate to use a zero turn lawn mower at home?
Yes, it is. Zero-turn mowers are best for homes with large yards. Some home style ZT mowers are available that make it easy to store the unit. However, if you require a giant mower due to the size of your lawn (3 acres or more), there are also commercial type ZT mowers available on the market.
Should I buy zero turn mowers?
A zero turn lawn mower is worth the time and money spent because it cuts the grass smoother and better than a regular mower.
Verdict
The Cub Cadet Ultima ZT1 is one of the highest quality mowers we have seen on the market. The machine consists of powerful and durable parts that are designed for years to come. You will be able to work quickly and efficiently with this powerful machine. The Cub Cadet Ultima ZT1 is equipped with a Kawasaki FR series V-Twin engine – one of the leading zero turn engine suppliers on the market.
These motors are built to withstand heavy use and will be one of the smartest investments you can make. You can depend on them for years to come thanks to their superior design and performance.
You will also be able to take advantage of the improved lift this machine can generate thanks to the oversized cooling fans. This, combined with ergonomic controls, makes the Cub Cadet Ultima ZT1 a great investment for any homeowner.