Legs are one of those parts of the body which can be easily shown off or covered up depending on the occasion. This is why legs are one of the best locations on the body for having tattoos. Legs are tall and have lots of area to fill so it is ideal for long designs. But unless you wear shorts or skirts very often it might not be that a good idea. You can have tattoos on your thighs, rear portion of the legs, ankles, knees and in the calf area.
But as these areas do not have protective muscles or tissues enough make sure you are ready to bear some pain. There are lots of ideas and shapes and objects which you can choose from and have your own customized tattoo. You can have full-length body art on the legs or go for simple objects and shapes or mix them as you wish.
1. Web Design tattoo
This web design tattoo on the legs looks very attractive. The lines are drawn really intensely to make the picture feel real and as if it comes out of the legs. The tattoo covers the entire front portion of the legs below the knees.
2. Origami cat
This tattoo is really simple and it looks really cute. If you want to have a simple tattoo on your legs you can for it. Even children's can have this tattoo. You can also have this tattoo on your hands and wrists. The figure of a cat is only outlined.
3. Splash of colors
This is a unique tattoo design idea where we can see a gun splashing colors. If you have a pleasing personality and always want to enjoy life then you can have this tattoo on your legs. The placement of the tattoo behind the legs also is perfect.
4. Triangular tattoo
This tattoo looks impressive on the legs. We can see a ball and behind as if everything is burning. If you are a good pitcher for your baseball team or a good soccer player you can have this tattoo on your legs as it gives an impression of a sporty person or a character.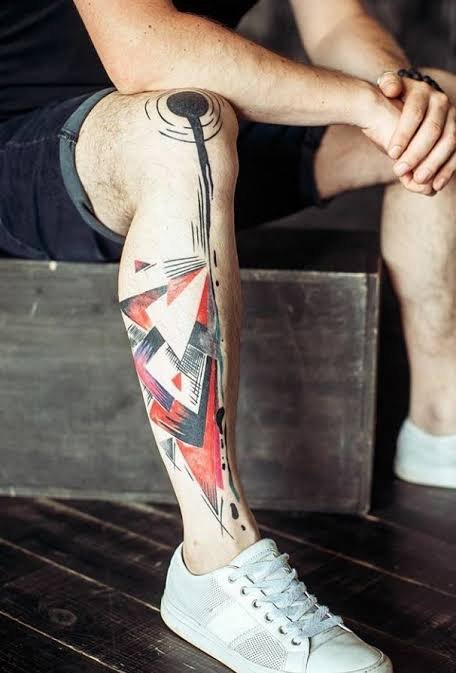 5. Maori style
This is a Maori style tattoo. The designs are beautifully designed and crafted. It gives a unique look to the legs that is sure to draw attention. But to show off this tattoo you also need to wear similar clothes. This tattoo is only for women.
6. Mummy style
If you are an explorer or a mummy lover then you can have this tattoo on your legs. This tattoo is only for those who take tattoo art very seriously. It covers the entire leg of the person. But it is indeed very lively and looks awesome.
7. Rose style
This tattoo is only for females. The tattoo is really beautiful and covers the entire upper portion of the legs. If you like roses or red color, in general, you can have this tattoo. This tattoo is also for the serious tattoo lovers only.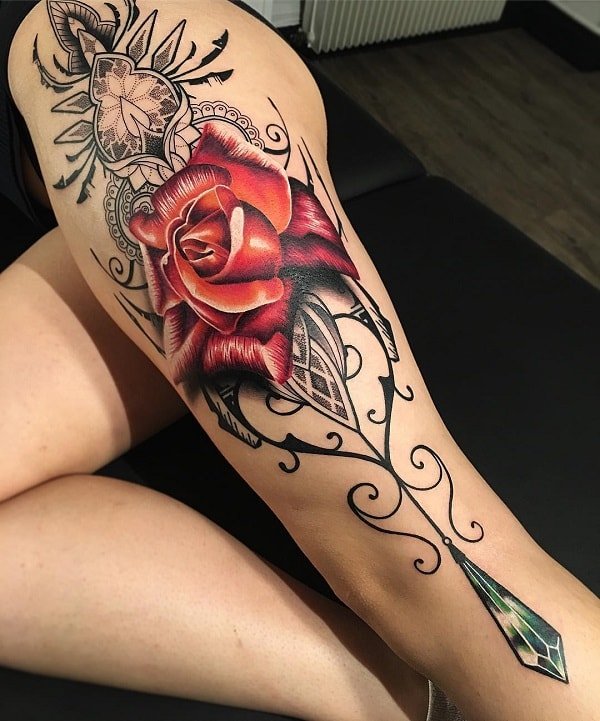 8. Full-length tattoo
This is a full-length tattoo and covers the entire legs. It indeed does take a herculean effort to make this tattoo. But indeed the effort and the small designs are highly adorable and appreciable. There are plenty of small objects and shapes and sizes in the tattoo.
9. Traditional floral design
This tattoo is highly colorful and there are plenty of colors used in making the tattoo. We can see different flowers, leaves, cactuses, and flower pots. If you are a tree or a flower lover then you can definitely have this tattoo. It is only for the females.
10. Designer tattoo
This tattoo is highly unique and we can see that it covers the full length of the legs b but does not cover the legs entirely. We can see images of different objects of different shapes and sizes. It is highly crafty and also bright-looking.
11. Red and blue flower
As we can see there are two rose flowers drawn in the two legs. It could signify your best friend, your partner or your brother or sister. It also tells that there is a very good bonding between the two of you and expresses how much you love the person.
12. Simple rose flower
In this tattoo, we can see the two roses on two legs. Again it could be for the person whom you love or like very much. It may also signify someone close to you who you dearly miss. This tattoo is very simple and anyone male or female can have it.
13. Skull tattoo
Skull tattoos are highly common and you can basically have them anywhere on your body to attract some attention. This one on the side of the legs is also looking pretty cool. The design and the finish of the tattoo make it very unique.
14. Trees and skateboard tattoos
This is a highly unique tattoo and is designed keeping in mind what activities you like the most. This type of tattoo can be drawn anywhere. If you like skateboarding and going to new natural places then you can have this tattoo on your legs.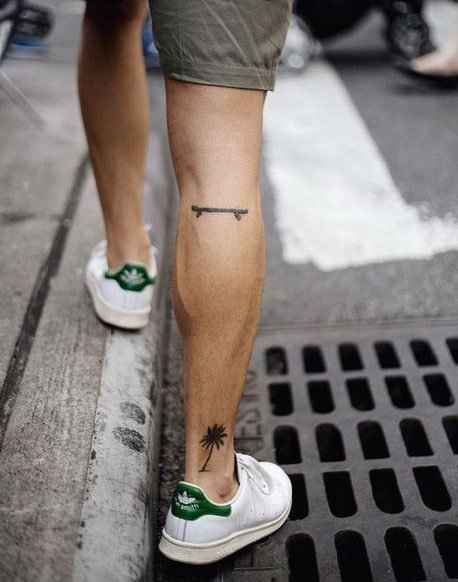 15. Animal tattoo
This tattoo shows that the person is an animal lover. If you also have a kindness for animals then you can have this tattoo on your legs. The design of the tattoo is highly unique and looks amazing and real.